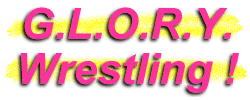 Vanessa Harding
Wrestler
Sexy Vanessa Harding had been a top manager on the southern indy scene for a couple of years before she decided that she wanted to climb through the ropes and get in on the action. Since then, this beautiful grappler has wrestled the likes of top women stars such as Lexie Fyfe and Luna Vachon...and she's looking forward to even more challenges inside the squared circle. With her eye on Japan and "The Big Fed", Vanessa Harding is looking at a bright future in the women's division.
Sexy pro wrestler Vanessa Harding!
Vanessa locks the camel clutch on Angel Williams.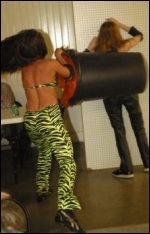 Vanessa can be ruthless as she proves here by smashing Syren with a trash can during a hardcore battle.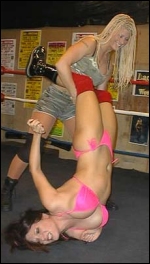 Vanessa can take it as well as she can give it. Although she's being bent into a painful boston crab, the beautiful brunette refuses to submit!
Vanessa Harding's Stats...
Height:

5' 7"

Weight:

128 (38DD-24-36)

Hair:

Dark

Eyes:

Green

Hometown:

Atlanta, Georgia
Vanessa Harding's Profile...
How It Started:

I watched an episode of Raw...then another...then another!...and I knew I had to try that. I thought it would be sooooo easy. I learned the hard way that it was definitely NOT easy. But once I start something I do not like to quit, so I didn't. I started as a valet for two years and was taking big moves while just being "high functioning" eye candy. I got more and more involved in getting trained to wrestle wherever I could. Being on the sidelines just wasn't good enough, I had to be in there on my own.

Gimmick:

Hard edge B*TCH...but not above using what I have to get what I want!

Wrestling Style:

Technical; Rule-Breaker.

Gear:

Tight-fitting and in a word: cleavage.

Titles Held:

FC Women's Champion.

Biggest Win:

Over Alexia on WEW.

Worst Loss:

To Luna Vachon in under four minutes.

Favorite Type of Match:

Straight old-school.

Favorite Moves/Holds:

Body or head scissors.

Finisher:

"38 DD" T (The 38 "Double-D" DT).

Biggest Allies:

Lexie Fyfe; Simply Luscious; Mideon.

Most-Hated Enemies:

Luna Vachon; SoCal Val; Dee Venturi; Kassidy.

Career Highlight:

So many! Dory Funk, Jr. and Dr. Tom Pritchard stopping the UK Kid from frog splashing me. Having the heck knocked out of me by Luna Vachon. Oh yeah...and kicking Malia Hosaka while she was down then causing her to lose to Lexie Fyfe! I live in fear that Malia will get me back in the ring.

Favorite Wrestlers:

Eddie Guerrero; Ivory!; Victoria; Christopher Daniels; Robbie Chance; Simon Diamond.

Wrestling Ambition:

Like everyone else: to go as far as I can...Japan or the Big Fed.
Vanessa Harding's Personal Notes...
I love to read. I am voracious and I can never own enough books. Mostly, I go for Historical and Fantasy. I am currently really into The Wheel of Time series By Robert Jordan and Bernard Cornwell's The Sharpe Series.....I spend my free time working out and watching any wrestling tapes I can get my hands on.....Fav foods: chocolate, sushi, spaghetti and beer! :)
Essential Vanessa Harding Links...