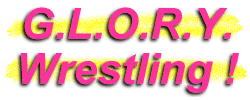 Valentina
Wrestler
While Valentina may have started in the wrestling business as a manager and valet, it didn't take this self-proclaimed "little bad ass" long to transition from ringside vixen to in-ring combatant. Valentina backs down from no one, taking on female and male opponents alike with 100% intensity. This lady takes her wrestling seriously! Yet, she does it with the same sexiness and excitement that she displayed when she broke into the business as a valet. Valentina is making believers out of everyone who sees her in action!
Valentina may originally be from New York City, but she's now the ultimate L.A. starlet!
Valentina is all business in the ring. Take a look at that face as she tries to rip off Desire's head!
Nothing needs to be said here...
Valentina with her NY Knockouts partner, Nikki T.
Valentina's Stats...
Height:

5' 4"

Weight:

125

Hair:

Blonde

Eyes:

Brown

Hometown:

L.A. baby! (Originally from NYC.)
Valentina's Profile...
How It Started:

I was meeting up with Johnny Rodz (owner of WUW wrestling school in Brooklyn, NY) to get some information about joining his school. While we were talking, he asked me who one of my all time favorite wrestlers was. I told him it was Jimmy Snuka. I had liked him ever since I was 3 years old when I jumped off my couch trying to be like him and broke my arm! lol. Then Rodz told me he had a show coming up and that I could be a valet for Jimmy Snuka if I wanted. I accepted and that's how it all got started.

Gimmick:

I am just a little bad ass...what more can I say?

Wrestling Style:

I am pretty well rounded and can adjust to any of my opponents' styles.

Gear:

It changes a lot, but usually something traditional, like spandex.

Titles Held:

UPW Women's Champ; KAPOW! Women's Champ.

Biggest Win:

Winning the UPW Championship in a three-way.

Worst Loss:

Any loss is a bad loss, because I am just too good to lose!

Favorite Type of Match:

I like to wrestle in straight up, one-on-one matches or mixed tag team matches.

Favorite Moves/Holds:

I like to get my opponents in the camel clutch and really make them feel it by pulling their hair while repeatedly giving them crossfaces. Or, I like to simply knock their head off with the Shining Wizard.

Finisher:

Tornado DDT or Shining Wizard.

Biggest Allies:

Allies? There's no room for friends in the wrestling business!

Most-Hated Enemies:

Way too many names to list here...

Toughest Opponent(s):

Rain; Malia Hosaka.

Career Highlight:

Wrestling for the troops in the Middle East and Alaska.

Favorite Wrestlers:

I admire Trish Stratus and Mickie James for all of their hard work.

Wrestling Ambition:

To be a major player in a respectable wrestling company.
Valentina's Personal Notes...
My real name is Elizabeth, but my friends call me Liz (you didn't think my parents named me Valentina, did you!).....My favorite color is pink. It matches my favorite holiday: Valentine's Day, of course!.....My favorite junk food is pizza and cheesecake. (You gotta try the godiva chocolate cheesecake at Cheesecake Factory!).....Real food? Macaroni and broccoli is sooooo good.....My interests? Well, if it doesn't concern wrestling, I'm either shopping, chatting on AOL, or heading out to a new movie.....I'm a real music lover. I play the flute and enjoy listening to Mariah Carey.