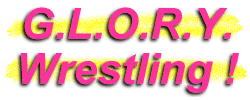 Tsunami
Wrestler
She may not be as big as most of Mexico's women wrestlers...but just like the ocean wave she is named after, Tsunami makes up for her lack of size with strength and tenacity that overwhelms most opponents. This masked, Monterrey-based "ruda" has been consumed by her feud with Ariel...intent in taking away the G.L.O.R.Y. Champion's title in any way possible. While this Tsunami has been crashing over the rings of Mexico, she has her eyes set on another target: the female warriors north of the border!
The deadly Tsunami!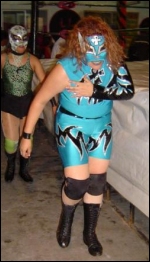 The masked Tsunami leaves the ring after a tough tag team victory.
Tsunami puts the boots to Ariel. Their south of the border feud has kept Mexican wrestling fans on the edge of their seats!
Tsunami brawls with an opponent outside the ring.
Tsunami's Stats...
Height:

167cm - 5' 6"

Weight:

77kg

Hair:

Brown

Eyes:

Coffee

Hometown:

Monterrey, Nuevo Leon (MEX)
Tsunami's Profile...
How It Started:

It all started by my admiration of Eddie Guerrero. He is one of the best and after watching him I knew this was something I wanted to do. So I joined a school to start my training. It was hard at first because my family didn't want to support me. But now that I won them over I have their full support.

Gimmick:

I wear a mask of my own design and I pretty much am a powerhouse in the ring. I do many strong moves because even though I am small, I am really strong. My trainer gave me my name because he used to say that even though I am so small, I am really strong and I cause a lot of damage...like a tsunami! I am a mix of styles: like Kane and Stone Cold combined with some Mexican Lucha.

Wrestling Style:

Ruda (Heel!). Power wrestler mixed with mat wrestling and a lot of submissions.

Gear:

My own personal design. Mask, shorts/skirt with only one sleeve. I have many different colors but all about the same design.

Biggest Win:

May 2005: Defeating Nikki Roxx and Ariel with Chacala as my partner.

Worst Loss:

Against Tigresa Del Norte and La Bruja.

Favorite Type of Match:

Mat wrestling and submission wrestling.

Favorite Moves/Holds:

SpineBuster and the Stunner are two of my favorite moves ever, so they have become my trademark.

Finisher:

A version of the F5 that Brock Lesnar used to do. And the Chokeslam!

Biggest Allies:

La Chacala, Chuy Escobedo and Chuy Escobedo Jr...who were my trainers.

Most-Hated Enemies:

Ariel!

Career Highlight:

Winning my family's support and being named Rookie of the Year for LLF in 2005.

Favorite Wrestlers:

Kane; Eddie Guerrero; Ayako Hamada.

Wrestling Ambition:

To become recognized in the wrestling world as a good wrestler...and to win my first championship!
Tsunami's Personal Notes...
I am kind of a reserved person and usually keep to myself, but I am very ambitious and I am very close to the people around me. I know how to listen to those around me and try to do my best always.....Here in Monterrey, they have started to tag me as "La Chica KANE": a female version of Kane!..... I am a big big fan of American wrestling and you can see that in my wrestling style.....I am trying really hard to learn English so I can someday come to wrestle in the USA...maybe the next G.L.O.R.Y. Convention!.....I love all types of music.....I like to go on the Internet and also play video games like Play Station.....and my favorite color is blue!
Essential Tsunami Links...