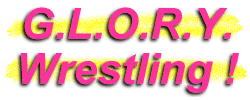 Traci Brooks
Wrestler
Looking for athletic ability, beauty, ring smarts and sex appeal all rolled-up into one dynamite package? Look no further than Traci Brooks! This gorgeous brunette grappler has captured the attention of wrestling fans all over North America. Of course, it's Traci's glowing good-looks and sexy figure that first capture the eye of fans. But when she steps into the ring to display her wrestling skills, that's when heads really start to turn. A superstar future is in store for Traci Brooks!
Traci Brooks is proof that sex-appeal and ring skills do go together.
Traci sends Felina flying with a hiptoss off the ropes.
Watch for Traci Brooks in a ring near you!
Traci proudly displays her WXW Women's Super 8 Tournament trophy.
We like seeing Traci in the ring, but we LOVE seeing her on the beach too!
Traci Brooks' Stats...
Height:

5' 4"

Weight:

127

Hair:

Black

Eyes:

Brown

Hometown:

St.Marys, Ontario (Canada)
Traci Brooks' Profile...
How It Started:

I won the Toronto Sunshine Calender Contest and was named Miss June 2000. To promote the calender, I wrote on my bio that I wanted to be the next WWF(E) Superstar. I was then given a contact number for Sully's Gym in Toronto, ON. That is how I met my trainer, Rob Fuego (El Fuego). Rob now owns and operates Squared Circle Training where we train four days a week. Since training with Fuego, I have combined my love for technical mat wrestling with his Lucha style.

Gimmick:

TNA Knockout!

Wrestling Style:

I do whatever I have to do to be the best. If that means being technical, a high-flyer, brawling, cheating a little, or just good old fashion wrestling...I always come out on TOP!

Titles Held:

TNA Knockout 2004; Super J Champion 2005; WXW Women's Super 8 Champion; AWF Heavyweight Champion.

Biggest Win:

All my wins are the biggest.

Worst Loss:

Never happens...

Favorite Type of Match:

Any match...as long as I am in that ring competing.

Favorite Moves/Holds:

I love mat wrestling, but I also like to incorporate some high-flying into my matches.

Finisher:

"Brooks and Done" (clothesline); "Pie in the Sky".

Biggest Allies:

I like everyone until they try to stop me from following my dreams of becoming one of the best female pro-wresters around.

Most-Hated Enemies:

Anyone that tries to stop me or slow me down...in or out of the squared circle.

Career Highlight:

Winning WXW's first ever Women's Super 8 in Danbury, CT.

Favorite Wrestlers:

Ricky "The Dragon" Steamboat; "Macho-Man" Randy Savage; Chris Benoit; Rick Rude.

Wrestling Ambition:

To be the first and the best TNA Women's Champion.
Traci Brooks' Personal Notes...
I grew up in St. Marys, ON. on a pig and chicken farm. Yes, I grew up shoveling pig **** and still do once in awhile! I try to go home and help out my family as much as possible. Actually, I just miss the farm.....When time allows I want to open up a shelter for runaway and abused animals on my dad's farm.....My biggest fans are my mom, dad and step-dad.....I train at Squared Circle Training in Toronto, ON. under head trainer Rob Fuego.....I recently did the stunt work for the lead actress in the movie Zombie Beach Party. I also made my acting debut as Tracy the sexy killer zombie!.....My favorite color is pink.....My favorite food is steak "BLUE" (For you Americans, that is hardly cooked...just knock the horns off!).....As for junk food, I love ice-cream. Haagen-Dazs Caramel Cone Explosion!.....My favorite movies: The Program, Gladiator and Cannonball Run.....Favorite musicians: Bruce Springsteen, Rob Zombie and Kid Rock. And I love country (that's the farm girl in me!).....Since I have been wrestling I have run into some super-great and talented girls. I know there is a lot of heart and dedication out there to be the best. That is what drives me is this business... the competition!
Essential Traci Brooks Links...