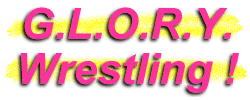 Tiffani Monroe
Wrestler
She started out as a ringside valet and manager, but the lure of the action inside the ropes was just too much for Tiffani Monroe. This manager-turned-grappler has trained hard to become one of the most frequently booked ladies on the East Coast. Funny thing is...now that Tiffani is wrestling, fans usually see her jumping back out of the ring as she often participates in hardcore and No DQ matches! One thing is certain: whether she is in or out of the ring, Tiffani Monroe knows how to excite the crowd.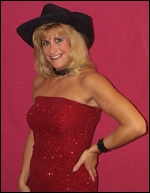 The gorgeous Ms. Tiffani Monroe!
Sienna Blaze finds out that Tiffani can be one tough competitor in or out of the ring!
A glittery Tiff poses for a promo shot.
Ms. Monroe shows-off a sexy figure overlooking the blue Atlantic.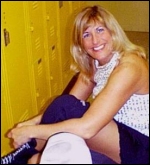 Tiffani flashes a winning smile as she laces up the boots before her match.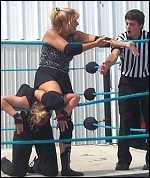 No one ever said that this sexy grappler won't break the rules when the mood strikes her!
Tiffani Monroe's Stats...
Height:

5'5"

Weight:

130

Hair:

Blonde

Eyes:

Brown

Hometown:

Cow Valley, Nevada (USA)
Tiffani Monroe's Profile...
How It Started:

I met up with indy veteran Johnny Graham. I started attending shows to watch him wrestle and finally decided that I would like to give it a try. I began managing him and was asked to take more and more bumps...so I decided I should just go ahead and start wrestling. I was half-way there already! So Johnny Graham started from scratch with me and I am sure that I was the project of his life. LOL!

Gimmick:

At this time I have a few different ones: Country western cowgirl; an American stars & stripes gimmick; and I also do my "Tiffamania" (Hulk Hogan) gimmick for fun sometimes.

Wrestling Style:

I like to do old school, submission style wrestling...although I have been venturing into the hardcore stuff a little.

Gear:

Country western cowgirl: usually black bottom with glittery top, sometimes a bit sexier than others, according to what the promoter calls for. American Angel: red, white, & blue stars & stripes wrestling gear. Tiffamania: red & yellow Hulk Hogan style.

Titles Held:

World Star Wrestling Ladies Champion; Trans World Wrestling Ladies Champion; Penn York Wrestling Ladies Champion; Championship Pro Wrestling Ladies Champion (2x); World Wide Wrestling Alliance Women's Champion; Southern Wrestling Alliance Women's Champion.

Biggest Win:

No DQ, falls-count-anywhere hardcore match against Sienna Blaze. It was for SWA in Huntsville, Tennessee for the Ladies Championship Title.

Worst Loss:

To Flayre in Championship Pro Wrestling in Moorefield, WV. I lost the CPW Ladies Championship to her.

Favorite Type of Match:

"No DQ, Falls-Count-Anywhere". I also enjoy intergender matches.

Favorite Moves/Holds:

Turnbuckle Armdrag.

Finisher:

Tiffmission (my version of a surfboard).

Biggest Allies:

Sasha; Dangerous Heart.

Most-Hated Enemies:

Sienna Blaze and Johnny Graham are the worst, but I have been having trouble with Amanda Violet and Luscious Lily, too.

Career Highlight:

I have had many highlights. Having my fans vote me as Glory Girl Of The Month. Being asked to wrestle in Mexico for the LLF. Having fans that suppoort me and are there to cheer me on when I enter a wrestling ring. Plus many, many more.

Favorite Wrestlers:

In the WWE, my favorite male wrestler is Rey Mysterio. My favorite WWE female is Trish Stratus. On the indy circuit my favorite male wrestler who I have much respect for (even if he is an enemy) is Johnny Graham. I have way too many favorite female indy wrestlers to list.

Wrestling Ambition:

I live for today. I am having a great time just wrestling on the indy circuit. I love the traveling, the shows and the wrestlers. I don't set any real high goals, that way there are no disappointments and what good that does come is a pleasant surprise.
Tiffani Monroe's Personal Notes...
I run two beauty salons in Pennsylvania. I love working with hair. My one salon is in an assisted living home and I adore the older residents. It is like having 50 grandmothers! They really think it is neat that I wrestle and are always inquiring about it. You see, older people are actually pretty cool!.....I am married and have a family that is really supportive of my wrestling also.....My hobbies are arts and crafts. When I am not doing wrestling shows, you can possibly find me at a craft show.....I enjoy working on my website, keeping it updated and looking fresh.....I have a big dog named Brock. He is part German Shepard and part Spaniel...but he thinks he is a toy poodle. He is a big baby that loves everybody.....My favorite season of the year is Spring!.....My favorite color is periwinkle blue and my lucky number is 13.
Essential Tiffani Monroe Links...