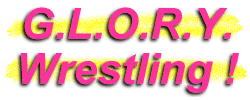 Pandora
Wrestler
Although still in the early stages of her career, Tara T has already earned her nickname as "Brooklyn's Baddest--NYC's Finest"...especially the baddest part! While she leans towards a high-flying combat style mixed with a healthy dose of chain wrestling, Tara T just can't help but break the rules when she steps through the ropes to compete against other women. Tara says it's really not her fault: it's a "personality flaw" which causes her to not get along with other females. Whatever the real reason for her viciousness in the ring, Tara T is prepared to leave the rulebook behind in her quest to climb the professional wrestling ladder of success.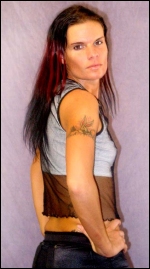 Pandora.
Pandora prepares to whip crowd favorite Christie Ricci off the ropes.
Pandora pours the pressure on her opponent's neck with a powerful leg scissors.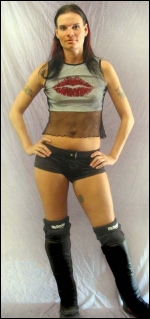 Pandora.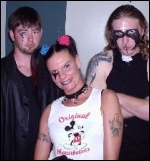 Pandora & Twisted Karma.
Pandora's Stats...
Height:

5' 5"

Weight:

115

Hair:

Red-brown

Eyes:

Hazel

Hometown:

Brooklyn, New York (USA)
Pandora's Profile...
How It Started:

I got involved in wresting because I have been watching it for a long time (my mother started taking me to live events at a young age). I've always been very active and Lita's high flying--as well as Trish Stratus' awesome advancement in the business--really inspired me. When Trish came in she was just a plain Jane, but by seeing her advance and watching her from day one up to now has been a great inspiration to me that if you put your heart into it, it can be done.

Gimmick:

Cross between bad girl and little girl (who is married to a serial killer, Nicholas Grendal).

Wrestling Style:

My wrestling style is high flying, rule-breaking and, if called for, I can chain wrestle. I do not prefer to use submissions.

Gear:

Ruffled bloomers, cartoon character shirts, pig-tails, dog collar, black makeup on one eye...and I carry a stuffed animal with me at all times.

Titles Held:

BWA Women's Title.

Biggest Win:

I would say my biggest so far was for a pharmaceutical company which sponsered a mixed tag team match with me and three other male students at my school. It didn't advance my wrestling career, but it was only my third month training and the crowd consisted of 2000 people...so it was the feeling of all those people watching me for the first time.

Worst Loss:

At HWA in Ohio when I teamed with Leilani Kai. Unfortunately, we lost agaist Christie Ricci and AJ Sparks.

Favorite Type of Match:

Mixed-tag and triple-threat.

Favorite Moves/Holds:

Tilt-A-Whirl Headscissor; Sunset Flip (off the top rope); Bulldog; X-Factor.

Finisher:

Diamond Cutter (off the top rope) or a Superplex.

Biggest Allies:

Nicholas Grendal and Rapture...my fellow members of Twisted Karma.

Most-Hated Enemies:

Anyone not in Twisted Karma.

Career Highlight:

So far,it would have to be the PGWA promo I did because it was the first time I chain wrestled, and it was the first time I saw myself on the internet promoting wrestling.

Favorite Wrestlers:

Jay Fury; Christy Ricci; Ray Gordy; Stone Cold; Lita; The Dudley Boys.

Wrestling Ambition:

My wrestling ambition is to travel in the indies and get a lot of experience...and then hopefully make it to the WWE. I would also like to get into NWA/TNA.
Pandora's Personal Notes...
I was born in Brooklyn, New York.....I joined the military at 18 (but didn't really like it too much).....I had my first and only child when I was 21 years old. That was the turning point in my life. My daughter is my inspiration and my motivation to make it, because seeing her little face light up when she sees me on the Internet or watches me wrestle is the best feeling I can get! She is my bigget fan she's been with me and watching me since Day 1 of my training.....I tend to stay away from the nigtclubs due to my quick temper and trying not to get in troube (I just seem to have this face that says "pick a figh with me!").....I like a wide range of music, especially: Hip-Hop, R&B, Rock and old 80's love songs.....My favorite groups are Korn, Lincoln Park, 50 Cent, Lil Jon and The Eastside Boys.....I definitely like to shop (mostly at Hot Topic).....My favorite colors are loud geen, pink, black and orange.....On my off time, I like to hang out with the guys I wrestle along side, watch pay-per-views, go to the movies, or simply mess around in the gym training.....Oh, and finally, my personality is one where I just don't seem to get along with too many females! I only train with guys right now, so it's like I have 10-12 brothers. It's great because they make me tough...but at the same time, I really do not have to worry about much when they are around!
Essential Pandora Links...
Want to send Pandora an email?:

Pandora