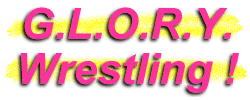 Tara Charisma
Wrestler
Queens, New York has it's very own up-and-coming ring star in pretty Tara Charisma. Who would believe that this cute, innocent and intelligent lady outside the ring could turn into such a tough competitor once inside the ropes? With a wide, bright smile and optimistic attitude, this young woman is impressing fans everywhere she competes. Watch for Tara Charisma...coming to a ring near you!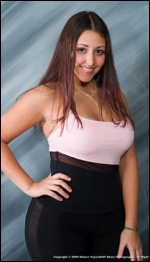 Most people would find it hard to believe that cute Tara Charisma is a professional wrestler!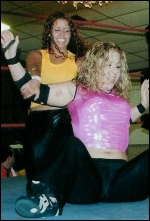 Tara has her arch-rival Alicia in pain.
Tara Charisma: a bright smile and a bright future in the ring!
Tara Charisma hails from Queens, New York.
Tara Charisma's Stats...
Height:

5' 0"

Weight:

125

Hair:

Brown

Eyes:

Brown

Hometown:

Bayside, New York (USA)
Tara Charisma's Profile...
How It Started:

I watched wrestling with my father when I was younger, but as time went on I stopped following it. However, things changed when I was in high school where I met friends who loved wrestling and they got me back into it. I started going to local independent shows and my eyes lit up every time. I knew that I needed to be in that ring instead of watching from the crowd! Since I had known one of the promoters outside of wrestling and became part of his ring crew. From there I met a lot of people, but most importantly the ones that brought me to train at the ?WA Training School with Mikey Whipwreck.

Gimmick:

I'm the total package! Not only do I have the looks...I have the skills!

Wrestling Style:

Technical, with a hint of high-flying.

Titles Held:

SSCW Women's Champion; UWA Tag Team Champions w/Ariel (Men's & Women's Division).

Biggest Win:

All my wins are big!

Worst Loss:

To Dawn Mae (BellaDawna) when my nose was bleeding through the whole match!

Favorite Type of Match:

Singles; Mixed-Tag.

Favorite Moves/Holds:

Headscissors; Tornado DDT's.

Finisher:

Neckbreaker.

Biggest Allies:

J Kronic; Mikey Whipwreck; Becky Bayless; Penny Dreadful; Ariel; Alere Little Feather.

Most-Hated Enemies:

They know who they are!

Career Highlight:

Becoming G.L.O.R.Y. Convention '04 Co-Queen with Penny Dreadful!

Favorite Wrestlers:

Christopher Daniels; Chris Benoit; Mikey Whipwreck; Molly; Ivory.

Wrestling Ambition:

To always be safe and happy. My other goals are for EVERYONE in the world to know who I am!
Tara Charisma's Personal Notes...
Some of my interests include: shopping; reading; karaoke; playing tennis and basketball.....I love roller coasters!.....I'm obsessed with Halloween costumes. I have over 20!.....I love to travel. There are a lot of countries I'd like to visit sooner than later.....I also love everything Disney and wish I could be a Disney Princess!.....The Saleen S7 is my favorite car.....Pink and blue are my favorite colors.....My favorite TV shows are Family Guy, The Girls Next Door and Lost......I love too many movies to list here!......Spiderman is my favorite superhero!.....My favorite band is No Doubt.....I have three tattoos and plan on getting more. My favorite tattoo is of a paw print with angel wings in memory of my dog Christina.....Now I have a crazy puppy named Coco! I love animals (especially dogs) so much that one of my goals in life is to rescue as many abused and mistreated animals as I can.....Outside of wrestling, I have my Bachelor's Degree (graduating Cum Laude!) in Media Studies with which I hope to attain a super cool job in film or television!
Essential Tara Charisma Links...