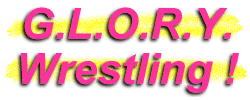 Talia
a.k.a. Talia Doll
Wrestler
Blonde, beautiful and sexy, it would be hard for some to believe that Talia is a professional wrestler...much less an aggressive, no-nonsense ring heel. But that is exactly what she is! Although she can win most matches on pure athletic ability, this nasty little vixen looks to bend, twist and outright break the rules whenever she can. She readily admits that her sweet and sexy appearance is nothing more than a ploy to put her opponents and the fans off their guard. When the bell rings, you can expect Talia to exhibit ring skills that range anywhere from technical chain wrestling to simply raking the eyes of an opponent. So you want a "good girl"? Keep on looking!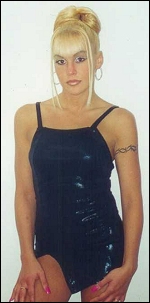 It may be hard to believe, but super-sexy Talia can be a real heel in the ring!
Talia climbs the ring ropes during her televised match against Victoria on WWE Heat.
Supergirl never looked so hot!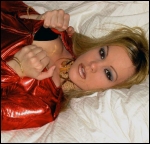 Talia is as comfortable posing for the camera as she is throwing fists in the ring.
The end is near for Talia as Victoria is about to put her away with the Widow's Peak during their WWE Heat match.
Talia's Stats...
Height:

5' 5"

Weight:

125

Hair:

Blonde

Eyes:

Hazel

Hometown:

Waterbury, Connecticut (USA)
Talia's Profile...
How It Started:

I've always liked wrestling as far back as I can remember. My dad is the one who got me into wrestling...he would always make me watch it with him. It took a while, but I got into it and ever since then I've been hooked. I used to love watching "Macho Man" with Miss Elizabeth (RIP). He was my favorite. To this day I love wrestling. I started training in November of 2001. I used to drive up to Chicopee, MA. (which is about an hour and a half from my house) three to four times a week to train with some friends at Kevin Landry's ring. Then, one day, we went to train at former-ECW star Jason Knight's "House of Pain Pro Wrestling Dojo" where Jason saw me working in the ring. He was impressed, so he asked me to come train with him and his students on a regular basis. I was so excited as wrestling has been my passion for as long as I could remember. Jason has helped me out tremendously! He's a great trainer.

Gimmick:

Good girl gone bad...for good!

Wrestling Style:

I like to keep it technical. I like chain wrestling because it's interchangable with a lot of moves. I like to wrestle in a style that shows I can work. Some high flying moves here or there can be expected.

Gear:

It depends on my mood. I do like pink, though. It goes with the "Barbie Doll" image that I get a lot.

Titles Held:

WXW Women's Champion; WEW Tag Team Champion.

Biggest Win:

Winning the WXW Womens Title in a battle royal as it had been vacated for so long before then.

Worst Loss:

Any loss.

Favorite Type of Match:

Mixed-tags and three-ways.

Favorite Moves/Holds:

Reverse Bulldog; Northern Lights Suplex; Triangle Choke.

Finisher:

Blockbuster...I call it "Blonde Ambition".

Biggest Allies:

April Hunter; Shane Helms; Krissy Vaine; Amber O'Neal; Kevin Matthews; Alere Little Feather; Alicia; Cindy Rogers; Luscious Lily; Mercedes Martinez; Nick Berk.

Most-Hated Enemies:

Anyone who crosses me. Haters.

Toughest Opponent(s):

Mercedes Martinez; WWE's Victoria.

Career Highlight:

Working for WWE and NWA-TNA.

Favorite Wrestlers:

Eddie Guerrero (RIP); Shane Helms; Kurt Angle; Chris Benoit; Lita; Victoria; Trish Stratus.

Wrestling Ambition:

To someday make it to the WWE...but if I dont, I'll continue to have fun doing what I'm doing now.
Talia's Personal Notes...
Well, I'm on the road A LOT, so I really don't have a whole lot of time to myself.....In my spare time, I love fishing and camping. When I was a little girl, I always used to go fishing with my dad. I like anything outdoors.....My favorite sport other than wrestling is softball. I started playing at the age of eight and I played all through middle school and high school.....I've always been very athletic. In high school I played softball, was in cheerleading, and ran track and cross country for four years. I was also named Athlete Of The Month in high school. I find that my athletic ability really helps me when I'm in the ring.....I absolutely love tattoos! I have five of them.....I LOVE LOVE LOVE video games!!! My current favorite is Dead To Rights II. My old-school favorites are Off Road Challenge and Time Crisis. I always make time for video games!