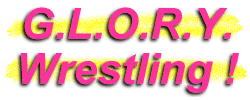 Sumie Sakai
Wrestler
Sumie Sakai has proven herself to be one of the most exciting and talented women wrestlers in all of Japan...and now she wants to do the same for American fans. It's hard to believe that so much energy can be packed into her tiny 5' 1" frame! This fearless Asian battler actually enjoys participating in vicious Death Matches. Weapons, ladders or barbed-wire won't scare this lady from a fight. Now based in the Northeast United States, Sumie Sakai is determined to change the face of American women's wrestling!
Japanese wrestling star Sumie Sakai.
Sumie seemingly enjoys torturing April Hunter with this camel clutch.
Sumie has been involved in many high-risk matches such as this one: a ladder and barbed-wire battle!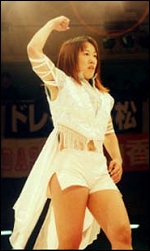 Sumie Sakai acknowledges the cheers of her Japanese fans.
Sumie Sakai's Stats...
Height:

5' 1"

Weight:

118

Hair:

Brown

Eyes:

Brown

Hometown:

Tokyo, Japan (Currently based in Philadelphia)
Sumie Sakai's Profile...
How It Started:

I was invited by a friend from judo who wanted to wrestle. I decided to enter the wrestling business with her and we became a tag team.

Wrestling Style:

High-Flyer, Technical, Old-School and Death Matches. I usually work as a babyface because of my size and style.

Gear:

Nothing specifically. I have a few different costumes.

Titles Held:

TWF World Tag Title; All Japan Tag Title; JD Junior Title; AWF; QOR; North American Women's Champion; PWU Women's Champion.

Biggest Win:

It was an anything goes, falls count anywhere, weapons match. Me and Hiroyo Mutoh vs. The Bloody and Fang Suzuki. We became the TWF Tag Champions.

Favorite Type of Match:

Death Match is my favorite. But I like every type of match...except for cat fights and gown matches.

Favorite Moves/Holds:

Moonsault Press; Fisherman's Buster.

Finisher:

Fisherman's Buster.

Biggest Allies:

All the wrestlers that are working to raise the status of women's professional wrestling.

Most-Hated Enemies:

None in the United States...yet!

Career Highlight:

I enjoyed wrestling the most famous woman wrestlers in Japan. I also had matches against some famous male wrestlers, including Great Sasuke, Dick Togo and Shinzaki Jinsei (Hakusi).

Favorite Wrestlers:

I have a lot of respect for Tajiri and I really enjoy his work. Also Kurt Angle and Triple H.

Wrestling Ambition:

I want to change American women's wrestling. I want it to be more respected and more highly regarded in America. I can speak English just a little, but I want a match with every American wrestler.
Sumie Sakai's Personal Notes...
I enjoy training hard and trying to learn American style at Killer Kowalski's dojo and Steve Bradley's dojo/school.....I like Hello Kitty merchandise.....I also like watching American and Japanese wrestling videos.
Essential Sumie Sakai Links...