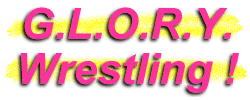 Su Yung
Wrestler
When Asian-American beauty Su Yung decided that her calling was the wrestling ring, she moved from her home in Seattle to the heart of "Old-School Wrestling Country": Memphis, Tennessee! Hooking up with legendary trainers such as Bill Dundee may have helped to establish Ms. Yung...but this rookie's talent, enthusiasm and athletic ability have already made her a force to be reckoned with on the Mid-South women's wrestling scene. Don't be surprised to see Su Yung emerge as one of the sport's top names in the very near future!
Beautiful rookie Su Yung poses on the ring apron before the start of a match.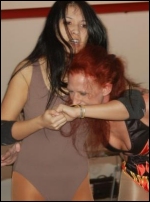 Su cranks a side headlock on archenemy Tasha Simone.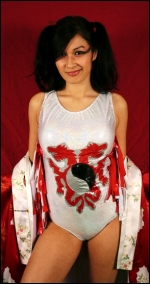 The Asian-American beauty often enters the ring in a ceremonial kimono before revealing her wrestling gear to the crowd.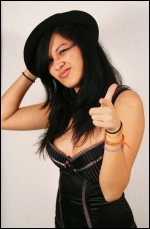 Attitude? You bet!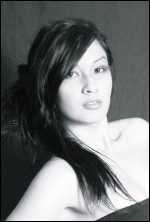 If she hadn't chosen wrestling as a profession, Su certainly could have had a successful career in modeling.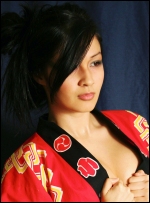 Gorgeous!
Su Yung's Stats...
Height:

5' 7"

Weight:

115

Hair:

Black

Eyes:

Dark Brown

Hometown:

Seattle, Washington (USA)
Su Yung's Profile...
How It Started:

There was one man to blame or leave congrats upon and, like most, it was my father. He had been there to see the GOOD stuff...back when wrestling started to become a huge deal. When I was around, I didn't get to see such great wrestling as he had boasted about. Once I had graduated high school, I left the Evergreen State and I came to where it all began for many legendary wrestlers: Memphis, Tennessee. There, I hooked up with the main training grounds for the legendary Memphis Wrestling shows, Hub City Wrestling Training, led by Bill Dundee and Kevin White.

Gimmick:

Basically, I am a chick who likes to fight or chew bubble gum...and I usually run out of bubble gum. Haha! Asian influences with some American up-beats, I try to keep things old school with a twist of current trends.

Wrestling Style:

Old school Memphis. I guess you can say it's technical, but I try to be all around.

Gear:

It doesn't really matter what I wear, but usually it's whatever I need to get the job done. Mainly, you'll see me come out to the ring in a kimono before revealing my wrestling gear or a cute outfit.

Titles Held:

None yet, since I'm so early in my career. But I am on my way to carrying some, so watch out!

Biggest Win:

My biggest win was against Tasha Simone with Misty James in her corner. You might have even called that a handicap match with the way things were going!

Worst Loss:

My worst lost wasn't really a loss, but it was against Tasha early in my wrestling career when she made me cry in the ring as I tapped out...but she never let go so I won by default.

Favorite Type of Match:

Singles and tags. I love the different styles people use, so it's great to learn in the ring with these two types of matches.

Favorite Moves/Holds:

I am known to use the front face lock but I am not afraid to mix it up with monkey flips and take downs. I love the way people look when I find a way to escape and put holds on them. It's so much fun!

Biggest Allies:

If you're my friend, I'm yours! Kevin White, Mr. Garry White, Ms. Elaine & Mr. Darrell, and countless of others.

Most-Hated Enemies:

Enemy is a strong word! Well, Tasha Simone, Bill Dundee and Jerry "The King" Lawler & "Queen" Renee are up there on the top of my list...but mostly it's people who aren't on the same page as me and are in the way of my goals.

Toughest Opponent(s):

Tasha Simone...she is one tough lady and I believe she's earned the name of

"Mean Tasha Simone"!

Career Highlight:

Any chance I get to be in the ring turns into a highlight for everyone! I'd like to say the night I debuted for the wrestling world on Memphis Wrestling, the night I wrestled Tasha on MLW, and the night I was managing Kevin White against Exotic Adrian Street with Miss Linda in his corner.

Favorite Wrestlers:

I wouldn't say I have favorite wrestlers, but I definitely look at many for some inspiration and tactics. Buddy Rogers, Ric Flair, Bill Dundee, Sensational Sherri, Fabulous Moolah, Roddy Piper, Bruno Sammartino and Adrian Street, just to name a few.

Wrestling Ambition:

My ambition is to impact wrestling in a way that not only showcases women wrestling, but also brings a new light to everything about women wrestling. After that, I'll be down in the history books so that when people think of women's wrestling, they will think of me. I am going to go to the top, no matter what it is or what it takes.
Su Yung's Personal Notes...
Coming from a mixed ethnic background, I am a very open minded person.....I do not drink, smoke or do drugs. It's yucky!.....My favorite colors are red and green!.....I love any kind of music people throw at me!.....I am forgetful, so please don't ask me to remember much! Hehe!.....I am pretty diverse and I like to talk about pretty much anything. Just some info if you ever get to chat it up with me!.....I strongly dislike body hair and the Easter Bunny!.....I am an animal lover. I have a pit bull and a kitten that looks like a girl version of Nermal, both of which I love very much!....I like to wear things not a lot of people would or could pull off and make it cool.....I love Red Bulls, Jones Soda and Starbucks!
Latest Su Yung News...
Memphis Ladies Wrestling has their taping schedule up and I'm on that list! So, if you want to see your favorite cutie in action, go to mlwonline.com and check it out!
Essential Su Yung Links...