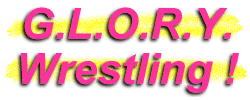 Krissy Vaine
Wrestler
True stars always shine...you can always step in and out of the spotlight if you've got "it". And Krissy Vaine has definitely got it! The gorgeous Ms. Vaine has been a fixture on the Mid-Atlantic wrestling scene for the better part of a decade and has also experienced life as a WWE Diva. Nowadays, the sexy grappling blonde beauty can be found gracing wrestling rings up and down the East Coast.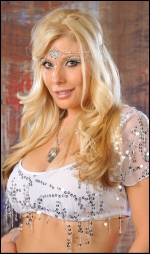 The gorgeous Krissy Vaine!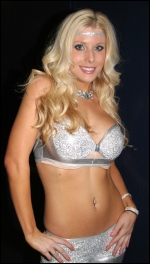 Don't let that sweet smile fool you...Krissy is one tough lady in the ring.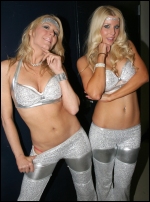 Amber O'Neal and Krissy Vaine: Team Blondage 2.0!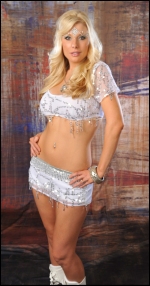 The spectacular Ms. Vaine!
When not in the ring, Krissy Vaine is in great demand as a model.
Krissy Vaine's Stats...
Height:

5' 8"

Weight:

135

Hair:

Blonde

Eyes:

Blue

Hometown:

Greensboro, North Carolina (USA)
Krissy Vaine's Profile...
How It Started:

WOW--this all started a LONG time ago! Can't believe I've been an honorary member of G.L.O.R.Y. for soooo long! It's been an awesome ride and I'm soooo happy to still be here! Now I'm a "grizzled vet" lol. Well, kind of...HAHA! I can't believe I've been involved in wrestling for close to ten years! WHOAAAAA! I've been fortunate enough to have been a WWE Diva and be put into the ring with the best of the best and to train with the best. That experience is something that is priceless and that I will always be so thankful that I had. I took a break for a while but something in me still loves this business. I have no expectations this go round and I'm just here to have a good time and to be around all my buddies that I have made over the years. : )

Gimmick:

Sparkly and pretty...always have been and always will be. That is Krissy Vaine!

Wrestling Style:

OLD SCHOOL! I love the character part of it! So fun!

Gear:

It changes with the times. I try to be innovative but try to not wear the same thing more than once or twice--TACKY!

Titles Held:

Retiring Torrie? Does that count?

Biggest Win:

Torrie...I didn't technically "beat" her, but I got my licks in. : )

Worst Loss:

Losing is ALWAYS bad!!!

Favorite Type of Match:

Singles, so ALLLLL eyes can be on me...where they are supposed to be!

Favorite Moves/Holds:

Boston Crab. I always use that move for some reason. Dunno why, but I always do! It's effective--guess that's why!

Finisher:

I'm still thinking of a new one...any ideas?

Biggest Allies:

No one. This train rides solo. I'd like to thank WWE for that life lesson.

Most-Hated Enemies:

Ummmmm, anyone who stands in my way. I'm not one to mess with.

Toughest Opponent(s):

Nattie Neidhart...she scares me with those screaming clotheslines!

Career Highlight:

WWE Diva!

Favorite Wrestlers:

When you have "been there done that" you tend to not "mark out" anymore. People that I think are awesome and respect greatly are Victoria and Torrie, who were huge stars (when my Jabroni butt came up in there) but they were sooo sweet and treated me with such kindness and respect. That is what I mark out to these days. Also, the Bella Twins for never changing and remaining wonderful, amazingly sweet women.

Wrestling Ambition:

I don't make plans anymore. Those don't really work too well for me (hahaha). I'm just gonna roll with the punches this go round.
Krissy Vaine's Personal Notes...
Funny how things change. I used to despise my day job but now I LOVE it! I make people beautiful for a living and its so rewarding being able to give back.....I've learned to not be quite so selfish and I've been humbled over the last few years.....I have two doggies and a ferret.....The highlight of my day is going home to see my beautiful "babies" and my hunny.....I got engaged a few Christmases ago and I'm living back close to my family.....I have a great life and I'm really content and happy and lucky with the way its turned out. Not what I had expected nor what I had "planned" but it's great and it's mine. There is a lot to be said for living your life and choosing your own path. : )
Essential Krissy Vaine Links...