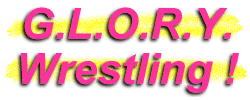 Skye
Wrestler
British wrestling continues to thrive with the addition of Skye to the UK Women's Division. Although she has yet to reach her 21st birthday, Skye already has a couple of years of experience under her belt...and things are only going to get better for this no-nonsense, old-school, technical grappler. Will we be seeing Skye in some state-side wrestling rings soon?
Skye!
Skye makes her way through the crowd towards the ring.
Not a good time for Skye as she gets beaten down in the corner.
Skye isn't afraid to mix it up with the men. Unfortunately, this guy is doing a number on her!
Skye's Stats...
Height:

5' 6"

Weight:

130

Hair:

Brown

Eyes:

Hazel

Hometown:

Cheshunt, Hertfordshire (UK)
Skye's Profile...
How It Started:

I used to watch WWF in the mornings when I was about seven, but then I eventually drifted away from it with school and childhood. When I turned fifteen I started watching wrestling again. I used to like it as a kid, but I really got into it and the characters this time! I've always loved acting and sport, and it was the mixture of both which really interested me. I was especially impressed by the women such as Lita and Trish. As soon as I saw women in the ring with the guys, it really inspired me and made me feel like I could do it too. The fact that women could go in there with the men and mix it up with them...I heard it calling to me! After a while of watching it made me want to explore all the other styles. And that attracted me to more wrestlers such as Shawn Michaels, Kurt Angle and William Regal. I like things that are different, and when you tell people that you wrestle they think you're mad! Bit like me really..so it goes hand in hand!

Gimmick:

No-nonsense, sweet yet very tough girl with a wild streak.

Wrestling Style:

Technical, old-school and a bit of new-school. I also like to throw in a dash of high flying/power.

Gear:

Anything blue really!

Titles Held:

None to date, but that will change!

Biggest Win:

When I teamed up with Jade to take on and defeat Karl Fury and Erin Angel.

Worst Loss:

Going one-on-one with Nikita in Switzerland for the Queen of Chaos title.

Favorite Type of Match:

Singles, intergender and tags/mixed tags.

Favorite Moves/Holds:

Somersault Neck-breaker; Fisherman's Suplex; Floatover DDT; TKO.

Finisher:

Hurricarana Pin.

Biggest Allies:

Ashe.

Most-Hated Enemies:

Jade; Nikita; Donna; Jennidee.

Toughest Opponent(s):

Nikita.

Career Highlight:

Working in front of the WWE roster at Insurrextion 2003 and being trained by Dave Taylor, William Regal and Chris Benoit in Atlanta (2003 & 2004).

Favorite Wrestlers:

One of my all time favourite wrestlers in WWE has to be Shawn Michaels. He is God! The women in WWE--Victoria, Molly, Jazz, Trish--are all really talented. There are also so many guys on the Indies that I like: AJ Styles; Brian Kendrick; Doug Williams; American Dragon; Low ki and Christopher Daniels.

Wrestling Ambition:

To be the best female wrestler to ever compete in Britain, make it to the States and make a name for myself there. Skye's the limit remember!
Skye's Personal Notes...
I am a qualified fitness instructor.....I like to work out when I can get off my butt!.....I like to listen to rock music. Some of my favourite bands include: Metallica, Evanescence, Disturbed and Korn. None of that nasty poppy stuff! On the odd occasion, I may listen to classical to chill me out.....I like art and poetry.....I enjoy reading...mainly horror and fantasy.....Also, like any female, I enjoy shopping. I cannot resist!.....I also watch as much wrestling as I can to keep learning all the time.....I like TNA, NOAH and ROH.
Essential Skye Links...
Visit Skye's home page...:

Skye