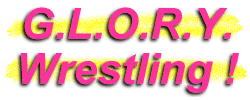 Simply Luscious
Wrestler
Simply Luscious is one of the brightest new stars on today's indy scene...and the young fans can't get enough of this positive role model/wrestler. Come to think of it--neither can the older fans! Always smiling and with energy to spare, this beautiful ring battler is getting a lot of attention down in her home state of Texas. Luscious loves to fill the ring with her high-flying aerial maneuvers and acrobatic tactics. In fact, the brunette grappler loves to constantly learn and practice the newest, most-daring moves for the express purpose of utilizing them in every match she possible can. With her combination of superb athletic ability, positive attitude and attractive good looks, Simply Luscious is simply destined for super-stardom!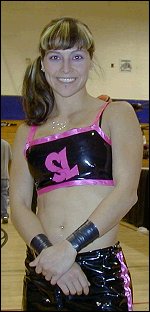 Always smiling, always 'up', always ready to go...It's Simply Luscious!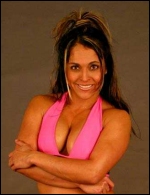 The sexy Simply Luscious!
The kids love Simply Luscious! Here she is with one of her many younger fans after signing an autograph.
During a match, Simply Luscious is liable to try anything! High flying, acrobatic moves highlighted this match against a much larger male opponent.
Simply Luscious' Stats...
Height:

5' 5"

Weight:

A dirty 130!

Hair:

Brown

Eyes:

Brown

Hometown:

San Antonio, Texas (USA)
Simply Luscious' Profile...
How It Started:

I went to Smackdown in Austin. I had ringside seats behind the ring. There was pyro, lights, cameras, Rikishi's ass...it was love at first sight. With the WWF that is, not Rikishi's ass! Then I joined Shawn Michaels Wrestling Academy and the rest is history.

Gimmick:

Simply Luscious...the name explains it all!

Wrestling Style:

Technical high flyer. I like to learn new moves and then use them as much as I can in my matches.

Gear:

I get bored easily, so I like to change often. But I try to be "cute-sexy" with my wrestling outfits.

Titles Held:

ETW Television Champion.

Biggest Win:

The win in Del Rio, Texas against Chris Marvel for the ETW Television Title.

Worst Loss:

To Bastet in a NWA-SW match. It was my worst loss because she's not even a wrestler!

Favorite Type of Match:

A good one-on-one technical match with a guy. I'm a technical wrestler and do not like the hair pulling, slapping matches that most women wrestlers do...which is why most of my matches are against guys.

Favorite Moves/Holds:

Springboard Elbow and The Tarantula.

Finisher:

Acid Drop, a.k.a. "The Luscious Landing".

Biggest Allies:

Rudy Boy Gonzales (trainer); Rob Summers; Doink The Clown; Brandon McGrath (referee).

Most-Hated Enemies:

Don Juan; Chris Marvel.

Career Highlight:

Going to WCW in Dallas and getting a snapmare from Tank Abbott. Also, I had a great match against Leilani Kai in Edinburg, TX. It was a non-title match which I won by sunset flip pinfall.

Favorite Wrestlers:

WWF's Tajiri. I love his moves, especially the springboard elbow and tarantula (see favorite moves above).

Wrestling Ambition:

I hope to make the World Wrestling Federation and win the WWF Women's Belt. I love sports entertainment and love to make the children happy...even the "big children"!
Simply Luscious' Personal Notes...
I've appeared in several movies. The most popular ones were Selena, where I appear in the runway scene, and Road To Graceland, in which I'm one of the cocktail waitresses.....I've had parts in several TV series filmed in Hawaii, too: The Byrds of Paradise, One West Waikiki and America's Most Wanted filmed in Hawaii (as a actress, not as a escaped convict!).....I've also been a Miller Lite Girl and have had numerous modeling assignments.....I have two bulldogs, Bosco and Priscilla.....My favorite color is purple.....I love my intro music: Better Off Alone by Alice Deejay.
Essential Simply Luscious Links...