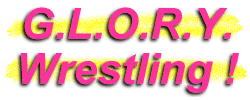 Simply D'Vyne Khrystyn Taylor
a.k.a. Lady D
Wrestler
Khrystyn Taylor is breaking out on the East Coast indy scene and one thing is obvious: there's plenty of arrogance and conceit within this lady. How do we know? Well, she insists on calling herself "Simply D'Vyne" Khrystyn Taylor...that's a pretty big clue! But this rookie grappler also appears to have the skills to get far in the wrestling world. Dedication, an impressive work ethic...not to mention being trained and mentored by the one-and-only AmyLee. We're sure you'll be hearing a lot about this "D'Vyne" wrestler as her career unfolds over the coming years.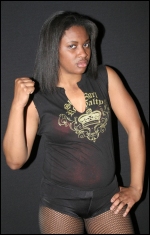 Simply D'Vyne Khrystyn Taylor!
Simply D'Vyne will go toe-to-toe with anyone in the ring...even rough 'n tough AmyLee!
Ms. Taylor flexes a well-conditioned bicep.
A lunch tray to the head of AmyLee...this lady isn't afraid to go hardcore.
Simply D'Vyne started in the wrestling business as
Lady D
...valet of The Southern Enforcer.
Khrystyn anxiously waits in the ring prior to her WSU debut.
Simply D'Vyne locks up with Trixie Lynn.
Simply D'Vyne Khrystyn Taylor's Stats...
Height:

5' 4"

Weight:

145

Hair:

Brown/Black

Eyes:

Brown/Black

Hometown:

South Philadelphia, Pennsylvania (USA)
Simply D'Vyne Khrystyn Taylor's Profile...
How It Started:

I've wanted to be a professional wrestler since I was about 8 years old. When it came time to seriously start training, I couldn't really find a school that was a good fit for me. Then I found the ACPW website. Their school was not only a good fit...it was also very close to where I lived! I had my tryout with Corpse, Gemini, Onslaught and the man who would become one of my trainers and partner in crime, The Southern Enforcer. I was training for just a month when I found out about a show that ACPW was holding in Princeton, NJ. I asked if I could come out with TSE. At first, management wasn't sure about how our gimmick would be received, but they allowed me to go ahead with it anyway. That began my career as a valet.

I continued by training to become a wrestler with The Southern Enforcer, Harley Hawkins and Mr. Arrogance...until I got injured and had to take some time away from the business to recover. I returned to the ring about eight months after my injury and began training again at the legendary Doc Diamond Devastation Wrestling Federation University where I continued to be trained by TSE and Mr. Arrogance. Then I met Pryme Tyme AmyLee and she also became an important part of my training. AmyLee took me under her wing and I have been very fortunate to have her as a trainer and mentor. Working shows for Doc Diamond and traveling with Amy Lee has been an amazing experience.

Gimmick:

Simply D'Vyne is the total opposite of what Lady D was. She is the "upgrade" version of my former character. Lady D was a fun-loving southern bell who loved everyone and wanted to be loved my everyone. But she soon found "The Indy's Most Hated" Amadeus and became infatuated by his mystique and grace. Simply D'Vyne is a very arrogant and conceited prima donna who will lie, cheat and steal to get what she wants...but she does it with style and grace.

Wrestling Style:

I like to describe it as aggressive grappling mixed with a little technical. You just never know what I might do. I will surprise you!

Gear:

Black or purple tights with a form-fitting shirt.

Titles Held:

None as of yet...but the belts will be coming soon enough. lol!

Biggest Win:

My biggest win was against Pryme Tyme AmyLee at WWWA...thanks to some help from MoNique.

Worst Loss:

My worst loss was to AmyLee in a mixed-tag match pitting Amadeus and myself against Amy and my former partner, The Southern Enforcer.

Favorite Type of Match:

So far in my career, it would be a no-DQ match. It's fun and unpredictable and you never know what will happen.

Favorite Moves/Holds:

Texas Cloverleaf; side strangle; arm drag; clothesline; European uppercut.

Finisher:

"Simply Devastating"

(Texas Cloverleaf).

Biggest Allies:

"Indy's Most Hated" Amadeus; Johnny Cisco; "Pryme Tyme" AmyLee.

Most-Hated Enemies:

MoNique; Trixxie Lynn; The Southern Enforcer.

Toughest Opponent(s):

AmyLee for sure!

Career Highlight:

Career highlight would definitely be working for WSU. Since I've been training and learning this business not only physically but also mentally, I've always looked at WSU as the main stage for women's professional wrestling. One day I got a call from AmyLee and she told me that I had an opportunity to perform on a WSU show. I was super-excited! The atmosphere was great, the girls were wonderful and I performed on a show that I used to be a huge fan of. With all the experience and knowledge in that locker room, it was definitely overwhelming! But I soaked it up and got to perform with some of the best female wrestlers in the business. It was truly great to work there and be a part of a great federation that totally supports great female wrestling.

Favorite Wrestlers:

Triple H is my icon, period! For the ladies, Sensational Sherri is my icon. Also: Beth Phoenix; Melina; Mickie James; Mr. Perfect; Paul Orndoff; Billy Graham; The American Dream Dusty Rhodes; Kevin Sullivan; Jacqueline; Cindy Rogers; AmyLee; Alere Little Feather; Jana; Randy Orton; Bob Orton; Randy Savage; Roddy Piper.

Wrestling Ambition:

My wrestling ambition is to be the best at what I do. Whether I am performing in front 3, 30, 300, 3,000 or 30,000 people, I want them to know that I left my heart and soul in that ring. I'm not in this to be famous or anything like that...however, I wouldn't pass up the opportunity! I wanted to be a wrestler because I love this sport--yes, this is a sport! I wanted to perform and maybe be some little kid's hero...someone that a person can live through...for the fans to say:

"Damn, that girl really put herself out there and she's cool!"

My ambition is to be a wrestler, nothing else...
Simply D'Vyne Khrystyn Taylor's Personal Notes...
Wow, where should I start? lol!.....Well, the person behind Simply D'Vyne is a sexy tom-boy who is very family oriented, fun-loving, likes to have a good time and show people as much love as possible.....I absolutely hate drama. So if you got a whole bunch of drama, get away from me because you will not like me too much!.....I'm very easy going, hard working and a team player.....I just want to live life and have fun doing it! No ego, just me.
Essential Simply D'Vyne Khrystyn Taylor Links...