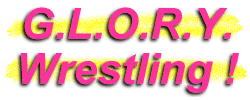 SheNayNay
Wrestler
Cocky. Confident. Obnoxious. All adjectives that could be used to describe Canada's SheNayNay. This OVW wrestler is certainly no shrinking violet. Ask her why she prefers singles matches, and she'll tell you it's because she doesn't want to have to deal with a "lame-ass" partner. Her allies? She has only three...Me, Myself and I. But there's another adjective that describes SheNayNay: talented! You may not approve of her attitude and ring tactics, but there's no denying that this lady is going places. Watch for SheNayNay in a ring near you!
SheNayNay shows us her well-toned physique.
Wild and unpredictable SheNayNay!
SheNayNay goes for the hiptoss...but gets blocked!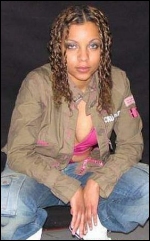 SheNayNay goes casual.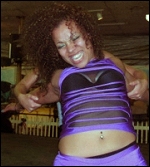 SheNayNay fights off an agonizing surfboard.
SheNayNay's Stats...
Height:

5' 4"

Weight:

120

Hair:

Brown

Eyes:

Blue

Hometown:

O-town, Canada
SheNayNay's Profile...
How It Started:

I watched w-a-y too much TV as a kid and, of course, got hooked on pro wrestling. I did the grappling thing in high school to better my game. After graduation, I found a reputable wrestling school to learn the craft. Back in the day, I used to follow wrestling. Now, I guess you can say that wrestling follows me!

Gimmick:

A diva I am not. In the ring, I am a fighter!

Wrestling Style:

I do whatever it takes to win, be it a ground arsonist or an aerialist. Whatever it takes to knock my opponent off their feet and down long enough for the three count.

Gear:

Whatever strikes the eye, whether it's a one-piece cat suit or a two-piece outfit.

Titles Held:

Too many to list.

Biggest Win:

Every win! Though I must say winning the battle royal at OVW by beating the likes of Beth Phoenix, ODB and Katie Lea was gratifying.

Worst Loss:

Old people shouldn't be referees. They can't count and they can't see.

Favorite Type of Match:

Singles, so I don't need to worry about some lame-ass partner stabbing me in the back.

Favorite Moves/Holds:

Having my opponent down for the three-count...though I must say, I love knocking them out or giving them a beating to remember (for keepsakes).

Finisher:

"SheNayNay Drop"

.

Biggest Allies:

Me, myself and I.

Most-Hated Enemies:

All the haters.

Toughest Opponent(s):

I have yet to come across one!

Career Highlight:

WWE's

Lifestyle Of The Built And Dangerous

, featuring Cryme Tyme and SheNayNay.

Favorite Wrestlers:

Bret "The Hitman" Hart; Jake "The Snake" Roberts; Undertaker; Chris "The Canadian Crippler" Benoit; Melina; Trish Stratus.

Wrestling Ambition:

For wrestling to be my official number one baby daddy and pay my bills and a little extra.
SheNayNay's Personal Notes...
The SheNayNay Experience will be available in stores shortly. You can pre-order your copy now for only $39.99.....To all fans: keep your hands to yourselves and invest heavily in SheNayNay paraphernalia!
Essential SheNayNay Links...