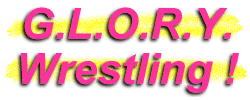 Serena
a.k.a. Serena Deeb
Wrestler
In the few short years that Serena Deeb has been wrestling, she's been making a name for herself in some of the top organizations in the US. She's already held the OVW Women's Championship. Ms. Deeb is also a star at SHIMMER Women's Wrestling and has climbed through the ropes for Ring Of Honor. It's easy to see why this young lady is quickly becoming so popular: beauty pageant good looks, a lean and muscular frame along with her athletic, in-ring wrestling skills are all propelling Serena Deeb towards the top of the women's indy wrestling scene!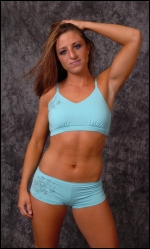 Fast-rising ring star Serena Deeb.
Serena acknowledges the cheers of her fans.
Serena waits for her opponent to enter the ring.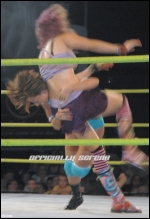 Deeb's patented finisher: The Spear!
Inside or outside the ring, Serena is a real beauty!
Serena's Stats...
Height:

5' 4"

Weight:

130

Hair:

Brown

Eyes:

Brown

Hometown:

Fairfax, Virginia (USA)
Serena's Profile...
How It Started:

I was 11 years old when my friends introduced me to wrestling. Like many, the first night I watched WWF I was hooked and from that time on I vowed to become a pro wrestler. My family and friends always thought it would be just a "phase"...but when I turned 18 I relocated to Ohio Valley Wrestling to honor my vow. : )

Gimmick:

I'm sort of like a girl-next-door with an ass-kicker mentality.

Wrestling Style:

A mix of technical and partly old-school. Usually the underdog because of my size, but always ready for a fight.

Gear:

I wear a lot of bright colors. My top is stomach-revealing and my shorts display my name across my butt.

Titles Held:

OVW Women's Champion; Memphis Championship Wrestling Women's Champion.

Biggest Win:

Fatal 4-Way for the OVW Women's Championship in September of 2006. I defeated three other girls...ODB, Beth Phoenix and Katie Lea...to become the Champion. A match I truly treasure!

Worst Loss:

Just weeks after gaining the OVW Championship, losing to Beth Phoenix after being hit in the head with the belt.

Favorite Type of Match:

Singles, because there are no breaks.

Favorite Moves/Holds:

Spear; arm drags; monkey flips.

Finisher:

The Spear!

Biggest Allies:

ODB; Beth Phoenix.

Most-Hated Enemies:

Katie Lea; Roucka.

Toughest Opponent(s):

Beth Phoenix.

Career Highlight:

My most memorable match was a Fatal 4-way for the OVW Women's Championship in which I faced off against ODB, Beth Phoenix and Katie Lea. The match was placed as the main event on OVW television. This was the match where I won the Championship after a summer long chase after ODB...a big payoff. It was one of the best nights of my career so far.

Favorite Wrestlers:

HHH; Shawn Michaels; Randy Savage; Mr. Perfect; Rick Rude; Rip Rogers; Molly Holly; Victoria; Mickie James.

Wrestling Ambition:

WWE! I would also really like to wrestle overseas in Europe, Japan and Puerto Rico.
Serena's Personal Notes...
I would definitely consider myself a city girl with big dreams.....My parents are the most supportive individuals on this planet and I have two great sisters, both older.....Outside of wrestling I love traveling, snowboarding, watersports (especially wakeboarding) and lifting weights.....I'm currently in college to become a Spanish major and have always had an interest in other cultures. I would love to become fluent in multiple languages.....My favorite foods are Arabic, Thai and Italian.....My biggest hero is my mom, who is the most optimistic and caring person I have ever met and who I strive to be like.
Essential Serena Links...
Serena Video