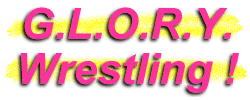 Scarlett Rose
Wrestler
She may be new to the wrestling ring, but Scarlett Rose has been around the business all her life. With a dad who has been in wrestling for many years, it's not surprising that Scarlett would want to follow in his footsteps. This Midwest-beauty looks as pretty as a rose away from the ring, but once she steps through the ropes she's ready to rumble...and you can bet that her Taekwondo training comes in handy when she faces more experienced or larger opponents. Scarlett Rose is only at the very beginning of what looks to be a very successful wrestling career!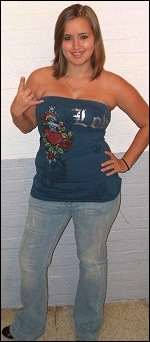 Pretty Scarlett Rose!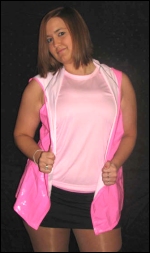 Pretty in pink before a recent match.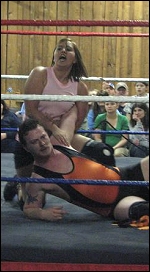 Scarlett isn't afraid to face off against the guys in mixed competition.
Scarlett with her tag partner (and fiance!) Alex Thorne.
Scarlett Rose's Stats...
Height:

5' 5"

Weight:

140

Hair:

Brunette

Eyes:

Brown

Hometown:

Vincennes, Indiana (USA)
Scarlett Rose's Profile...
How It Started:

My dad is a wrestler...so I've been around it all my life. And I was told one night at one of my dad's shows, after talking to some of the guys in the back and my dad about wanting to train, they told me they didn't think I could do it. So I wanted to prove them wrong. And I guess I did.

Gimmick:

I'm a play-by-the rules girl, but throughout the years, I have learned not to take crap from others in the ring.

Wrestling Style:

Old-school, technical and some high-flying.

Gear:

You can catch me in many different things ranging from pants to skirts to shorts. It really depends on my mood.

Biggest Win:

Lately, I would have to say my win against OVW rising star, Belle Von Black.

Worst Loss:

One of my first matches against Moonpuppy, which consisted of her mostly choking me and cheating to win.

Favorite Type of Match:

Mixed-tag matches and single intergender matches.

Favorite Moves/Holds:

Tilt-a-whirl; arm drag; headscissors; neckbreaker/DDT.

Finisher:

X-Factor

; Or sometimes I'll even spice it up and do a

Code Red.

Biggest Allies:

JP Lightning; Elektra Fin.

Most-Hated Enemies:

Maria Lopez; Moonpuppy; Nite Angel; Lady Vendetta; Katinka Nachman; Camron Star; Paige Adams.

Career Highlight:

Being named the 2005 "Babyface of the Year".

Favorite Wrestlers:

I have many favorites. Too many to choose just one!

Wrestling Ambition:

Making it as far as I can go.
Scarlett Rose's Personal Notes...
Although I do have a back problem, I don't let that stop me.....I am a full-time college student holding a full-time job, and still trying to get in as much time to work out and wrestle as my back will allow.....I may be fragile right now, but I'm not going to let that stop me from doing the thing that I love!.....I have many animals, I guess you can say I'm quite the animal lover.....I am really big on family, they mean the world to me.....I'm basically just a girl with big dreams and won't let anything come between those goals and myself.
Essential Scarlett Rose Links...