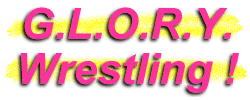 Sara Jay
Wrestler
Already making her mark on the Australian wrestling scene, Sara Jay is now looking across the Pacific to continue her success in the very competitive North American women's wrestling scene. A double-title holder in her home fed (MIW), Jay has defeated men and women who tower over her...and that's most of her opponents when you consider that this tough little wrestler stands at a mere five-feet tall! With a North American tour coming soon, keep your eyes open for even more highlights in the career of Sara Jay.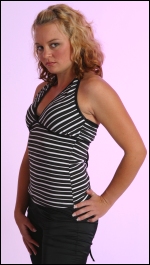 Beautiful Sara Jay!
Sara works over arch-enemy Lara Love.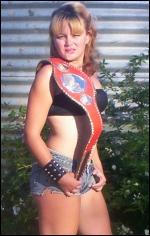 Sara poses with one of her championship belts.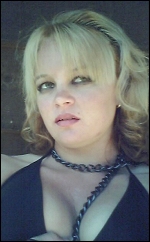 We hope Sara isn't planning on using that chain in one of her matches!
Sara Jay's Stats...
Height:

5' 0"

Weight:

50kg (110 lbs)

Hair:

Varies from red, purple, blonde, brown.

Eyes:

Green

Hometown:

Warwick (AUS)
Sara Jay's Profile...
How It Started:

I grew up watching wrestling on TV and I was mad about it ever since I can remember. I found out about a local fed on the Gold Coast and I immediately started training. It was a dream come true. I wasn't quite 5' tall when I started and for a year I only had males twice my size to wrestle! People were dubious of my ability to wrestle. However, I proved them wrong, I persevered...and it's finally paid off!

Gimmick:

In Australia, I'm known as The Bone Breaker for obvious reasons. My last gimmick was The Home Wrecker.

Wrestling Style:

Technical mixed in with some high-flying and whatever I can get away with!

Gear:

Knee pads; short shorts; cut-off shirts or little sports tops; plus dark eye makeup for that edge.

Titles Held:

Undefeated in the Junior Women's Divison and two-time MIW Women's Champion.

Biggest Win:

Winning the Women's Title off a male!

Worst Loss:

Losing to a male who dressed in women's lingere. Very embarrassing.

Favorite Type of Match:

Singles and mixed tag teams. They can both get pretty wild!

Favorite Moves/Holds:

Clothesline. It's broken many noses!

Finisher:

Rocket Blaster (face buster).

Biggest Allies:

The Fabulous Sebastian, MIW's referee/commentator.

Most-Hated Enemies:

Lara Love.

Career Highlight:

Being the Junior Women's Champ and the Women's Champ at the same time. It's a good feeling.

Favorite Wrestlers:

Batista. He has the total package, good looks, great wrestling ability, charisma...the lot.

Wrestling Ambition:

To make an impact overseas and in my homeland of Australia.
Sara Jay's Personal Notes...
I love body building and power lifting. I like hardcore training and pushing my body to the limit.....I'm also a personal trainer who loves helping other people acheive their personal goals.....I own a couple of horses and absolutely love riding and competing. Actually, I'm an all-round animal lover. In addition to my horses, I own ponies, a cat, dogs and chickens!.....I love traveling overseas and seeing new countries.....I'm a fan of the V8 supercars, motorcross, and I even gave competitive motorcross a go in New Zealand.....I also enjoy spending time with my family and friends and living life to the fullest.