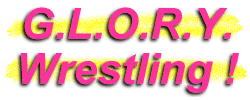 Sammi Lane
Wrestler
Sammi Lane--one of New England's hottest up-and-coming young wrestlers--has been catching the attention of fans throughout North America...and for good reason. Certainly the first thing that most fans notice is this lady's sexy and athletic good looks. But it doesn't take long for people to realize that that Sammi knows her way around a wrestling ring. And why shouldn't she? She's been wrestling since she was a freshman in high school! Currently one of the most popular wrestlers in Massachusetts' well-regarded World Women's Wrestling promotion, Sammi Lane is on the verge of breaking out across U.S. indy rings!
Sammi Lane!
Sammi strikes a sexy profile.
Lane isn't afraid to take on the guys!
Sammi has attitude to spare.
Lane prepares to nail the sidewalk slam.
Sammi Lane's Stats...
Height:

5' 4"

Hair:

Brown

Eyes:

Brown

Hometown:

Manchester, New Hampshire (USA)
Sammi Lane's Profile...
How It Started:

I first saw an indy show in 4th grade, since my dad knew the Astroman. It was pretty entertaining, but my mom kept me on track with my ballroom dancing. Fast forward to 7th grade. I started watching WWE around the time of the WCW/ECW invasion, and was hooked! I saw how driven the wrestlers were...with passion and energy...and they really inspired me. I knew I wanted to do the same. My freshman year of high school I joined the wrestling team. I had accomplished so much in ballroom dancing and even started teaching....but I needed something new. Then in my junior year I finally joined a pro wrestling school and started my dream:

to be a professional wrestler!

I've been with it ever since. : )

Gimmick:

I'm just a girl who likes to kick ass! Sometimes I'm a heel, sometimes I'm a baby face. Whatever it is, I still go out there and have a blast!

Wrestling Style:

Breaking the rules is always fun, but I like to chain around and throw in a high-flying move every so often.

Gear:

I like to switch it up. I have an all-white outfit that I love because it makes me stick out. I also have an all-gold outfit, and will soon be showing off my all-silver outfit. I love metallics!

Titles Held:

None...yet!

Biggest Win:

Every win is a big win!

Worst Loss:

The worst loss had to be a No DQ tag match with myself and Barbie vs. Amber and Roxxie Cotton in WWW. They sprayed us with silly string...we were thrown off our game after that and lost. : (

Favorite Type of Match:

No DQ's are a blast, but I love whatever type of match is thrown at me. It's always a challenge. Tags are fun too, because there are so many possibilities.

Favorite Moves/Holds:

Head scissors; flying high cross body; Russian leg sweep; full nelson (sometimes turning it into a face bump).

Biggest Allies:

I'm my own ally. Don't trust anyone...they might turn on you!

Most-Hated Enemies:

Mistress Belmont; Tanya Lee; Lexxus; Amber; Roxxie Cotton.

Toughest Opponent(s):

All of them...everyone puts up a good fight!

Career Highlight:

I think that my career highlight will be coming very soon in my upcoming match against Sunny and Dawn Marie. Stay tuned!

Favorite Wrestlers:

I love watching anyone I can really learn from, which tends to be the girls who have been around for a while. I loved watching Lita, Trish Stratus and Victoria. As far as indy wrestlers, my favorites are the ones who critique me after a match.

Wrestling Ambition:

I hope to entertain fans wherever I am. I want to keep on inspiring people to follow their dreams, including becoming a professional wrestler. I'd love to someday have a contract so I could focus on only wrestling.
Sammi Lane's Personal Notes...
I've been dancing since I was 18 months old, and ballroom dancing since I was 6. I've competed, and now am an instructor.....I played the french horn for 8 years and miss it now that I'm in college.....I actually moved away to college because it's in the same city where my brother lives and there's a wrestling school here...he doesn't know that I moved to be closer to him, shhh!.....I love the arts. I can draw whatever you put in front of me, especially pictures. Painting is fun, but I'm not great like my dad. Photography also interests me.....I always have a supply of books on hand. I love reading!.....I'm a psychology major, which speaks a bit about me as a person. People watching is a fun way to pass the time. Seeing how they interact with other and their family.....Roses make me happy!.....I haven't grasped the concept of time management. I procrastinate!.....I love to argue!
Essential Sammi Lane Links...
Sammi Lane Video