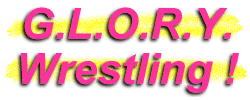 Rowdy Red
Wrestler
With a ring temper that matches her flaming red hair, Rowdy Red is one lady who knows what she wants once the bell sounds: VICTORY! This amateur-turned-pro grappler uses old-school tactics to batter, hurt and ultimately defeat her opponents...preferring to hear a sweet "I give!" rather than the 1-2-3 of the ref's hand slapping the mat. Although Rowdy Red may have started her mat career later than most, she's making up for it with a vicious style that should stand her in good stead for many years to come.
Rowdy Red strikes a serious pose in the ring.
Red whips Fantasia into the ropes.
The redhead looking sexy before a training session in the ring.
Rowdy Red can take as much as she gives. Here, she collapses into the ropes after a vicious chop from her opponent.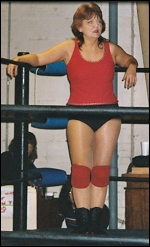 Red waits in her corner for the match to start.
Rowdy Red's Stats...
Height:

5' 6"

Weight:

140

Hair:

Red

Eyes:

Gray

Hometown:

Charleston, South Carolina (USA)
Rowdy Red's Profile...
How It Started:

I used to watch Sherri Martel and Velvet McIntyre on TV long ago. My husband was a fan, and when we were dating he introduced me to some people. I managed to get in contact with Jackie Bradley and spent a day learning some things with her. I was hooked after that. We made some friends and did some amateur style mat wrestling just for fun. It was really hard, but I learned a high tolerance for pain doing collegiate style. Later, we found out that Lexie was living just a few hours away from us at that time and my husband invited her up to train with me and another girl. Lexie took a personal interest in me for some reason (but for which I will always be grateful!) and really did a lot to help me. I met some other awesome girls through her...Brandi Alexander, Hellena Heavenly, Kat Venturi...and I've learned from all of them.

Gimmick:

Jekyll and Hyde! Outside the ring, I'll do anything I can for anyone in need. I am here to share love and try my best to be a true human being. BUT, inside the ring, I'll knock you out! I don't get in the ring to make friends...I get in the ring to make PINS!

Wrestling Style:

I'm an old-school brawler...just get the job done.

Gear:

I always wear something red: boots, kneepads, outfit...something somewhere will be red. It goes with my hair!

Titles Held:

Troublemaker. (If that counts...)

Biggest Win:

Over Brandi Alexander after an out-of-nowhere bulldog. I think it surprised me almost as much as it did her. Priceless...

Worst Loss:

A tag match against Lexie Fyfe and Kat Venturi. They tied me up in the ropes so that I was unable to help my partner as they demolished her.

Favorite Type of Match:

Submission. "I give" is music to my ears...

Favorite Moves/Holds:

I like using any that hurt...A LOT! But the bulldog and Indian Death Lock are probably my favorites.

Finisher:

Bulldog and DDT.

Biggest Allies:

Brandi Alexander; Brandi Wine; Hellena Heavenly; AJ Sparx; Lexie Fyfe; Little Jeanne; Kat Venturi.

Most-Hated Enemies:

Diana and Lucious Lee! I hate goody-two-shoes blondes!

Career Highlight:

Being presented with a plaque at the Ladies Night Out show in Fayetteville, NC in thanks for my support/caring of all the girls I've been fortunate enough to meet and work with. (I told you I was a good egg until I cross those ropes.) It totally blew me away and made me cry in public!

Favorite Wrestlers:

The one and only Sensational Sherri Martel!

Wrestling Ambition:

To just have fun and help anyone I can to come up in the business and be treated fairly and respectfully. It's the people, folks. It's the people that count...
Rowdy Red's Personal Notes...
I am an artist, with oil paint and palette knife being my favorite medium. I've won a few art contests locally and even had one of my paintings hang in our state capitol for a year on loan. What a rush!.....I am a nature bum, former-beatnik, cowgirl and tree hugger. I also used to be a John Denver fan. What does that tell you?!.....I study and practice Native American Spirituality, herbal medicine, and Chinese Five-element theory.....I am a licensed Nursing Assistant and I am taking prep courses to begin Massage Therapy school next year.....I am also studying Reiki, a type of energy bodywork.....I'm learning meditation. You wouldn't think sitting still could be so hard!....My philosophy for life: "What lies behind you, and what lies ahead of you, is nothing compared to what lies within you!".....My favorite colors are earth tones, with teal and emerald green being my favorite.
Essential Rowdy Red Links...