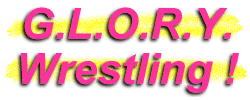 Roni Jonah
Wrestler
Rockstar Roni Jonah has just one rule: Live life on the edge! And this lady lives in two of the most outrageous worlds that she could find: rock 'n roll and pro wrestling! In fact, this punk rocker has melded her music career as bassist of underground band Gothic Mayhem with her OVW wrestling career. Whether she's on stage playing her bass or in the ring smashing her bass over an opponent's head, Rockstar Roni Jonah is one lady who is impossible to ignore.
Rockstar Roni Jonah!
You can see the outrageous attitude just dripping from this young music and wrestling star!
Roni not only plays bass, she swings it at ringside when needed!
Roni Jonah's Stats...
Height:

5' 9"

Weight:

145

Hair:

Black

Eyes:

Green

Hometown:

Vancouver, British Columbia (CAN)
Roni Jonah's Profile...
How It Started:

In college, my best friends told me it seemed like the wrestling business was something I should try. It took a bit of convincing, but one I tied it...I loved it!

Gimmick:

Roni Jonah = HUGE rock star! I'm the bassist of the underground punk cover band Gothic Mayhem.

Wrestling Style:

I do what I want. Try to stop me!

Gear:

I make all my own clothes. I switch it up all the time, but you can bet it'll be flashy and shiney.

Titles Held:

Rock star!

Favorite Type of Match:

Rock 'N Roll Weapons Match; Battle royals.

Favorite Moves/Holds:

Stage Dive: Russian leg sweep.

Finisher:

Rock 'N Roll Slam!

Biggest Allies:

Bobcat; Melody.

Toughest Opponent(s):

OVW's Ariel (G.L.O.R.Y. Girl Desire).

Career Highlight:

Getting kissed by the Big Show while managing The Miz. Also, being part of the first-ever Rock 'N Roll Weapons Match.

Favorite Wrestlers:

Seth Skyfire.

Wrestling Ambition:

I want to have fun!
Roni Jonah's Personal Notes...
I make the best and most outrageous pancakes you'll ever have and I will make them anytime, anywhere, for anyone!.....I design and make clothes. I had a store online for a long time but I only have so much time in my day and ultimately, wrestling and music comes first. I do still make wrestling gear upon request. I also make ALL of my own gear.....I love music and I love playing guitar, almost as much as I love wrestling!
Essential Roni Jonah Links...