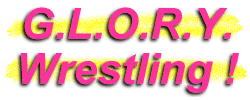 Rebecca Knox
Wrestler
Beautiful Rebecca Knox was just a "chizzler" when she got hooked on watching Hulk Hogan and the Ultimate Warrior wrestle on her television. Little did she know back then that she was destined to become the best known female grappler in Ireland! The technically-oriented Ms. Knox has now made her way across the Atlantic to Canada...where she is looking to replicate the success from her home country in North American rings.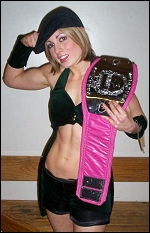 Rebecca Knox flexes for the camera.
Knox looks for the crowd's approval during an intergender battle.
Rebecca flashes a big smile for fans during an autograph session.
Rebecca proudly displays her title belt.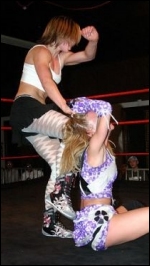 Ms. Knox can get rowdy when she has to...as in this hairpull and kick to the back of Daizey Haze.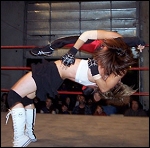 Rebecca sends an opponent flying with a beautiful suplex.
Rebecca Knox's Stats...
Height:

5' 6"

Weight:

130

Hair:

Brown/blonde...it changes!

Eyes:

Hazel

Hometown:

Canada (via Ireland)
Rebecca Knox's Profile...
How It Started:

I used to watch wrestling as a chizzler (up until I was about five or six) with my older brother, who is also a wrestler now. We used to immitate the characters we saw on TV like Hulk Hogan and the Ultimate Warrior, and have matches using my mothers bed as a wrestling ring. We stopped watching it in about '92, but got back into it again in '99. Then in 2002, my brother decided that he would go over to NWA-UK Hammerlock's training facility to train to be a professional wrestler. (At that time there were no training schools in Ireland.) I had no intention of going that distance because I simply had no interest in becoming a wrestler. I loved watching, but that was about it. But then he found out that a training school would be opening in Ireland. So I decided to join...not with the intention that I would become a professional wrestler, but with the notion that it would help me get fitter. But after the first day of training, despite the fact that I was utterly awful and my muscles ached all over, I was completely hooked! I was the only girl to train there for over a year, but the boys never treated me any differently...which really helped me to become a better wrestler. Wrestling never came naturally to me so I have really had to work hard to get good, and it's paid off. NWA-Ireland was the perfect place to start training. The trainers, Paul Tracey and Fergal Devitt, are excellent and it's like a family down there. You won't find a better training school!

Gimmick:

Cocky, confident in my ability, world's best dancer (no doubt about it!), Irish and damn proud of it, and yeah...a little "off me rocker"!

Wrestling Style:

I'm extremely technical. I love mat wrestling and suplexing. I do a bit of high flying and a fair bit of brawling, but I just love flashy technical wrestling.

Gear:

It changes a lot. Generally something tight and bright!

Titles Held:

NWA-Pacific Northwest/ECCW Supergirls Title.

Biggest Win:

Winning an 18-person battle royal in Korakeun Hall Tokyo, which included legends like Aja Kong and Gran Hamada.

Worst Loss:

To Mariko Yoshida in the semi-finals of Chick Fights 3.

Favorite Type of Match:

Intergender singles match.

Favorite Moves/Holds:

T-bone suplex; spring board leg drop; fisherman neck-beaker; wrist locks; arm bars.

Finisher:

I dont really have a finisher. Every opponent is different. I think it's stupid to think that there's a certain move that could finish everyone off. I always have different finishes to my matches.

Biggest Allies:

Sean "Maxer" Brennan; Gonzo De Mondo; "The Investment" Ross Browne; Danny Williams; Justin Bred; Danny "The Renegade Angel" Butler; Scotty Mac; Dropkick Murphy.

Most-Hated Enemies:

Jezebel; Jetta; Adam Abz; The Finglas Hooligans; Syanna; JP Monroe; Miss Chevius; Juggernaut.

Career Highlight:

Wrestling in Japan and tagging with Aja Kong and Gran Hamada.

Favorite Wrestlers:

Fergal Devitt; The Dynamite Kid; The Original Tiger Mask; AJ Styles; Low-Ki; Dick Togo; NOKI-A; Paddy Morrow; Gonzo De Mondo; Carl O Rourke; Robbie Morrisey; Danny Butler; Justin Bred.

Wrestling Ambition:

To be the best wrestler I can possibly be and the best female technical wrestler in the world. To push myself to the extent of my ability and do the best I can in every match. To wrestle the best workers in my division and have a long and successful wrestling career. To wrestle all over the world.
Rebecca Knox's Personal Notes...
My favourite movies are What's Eating Gilbert Grape?, Robin Hood (The Disney animated one!) and Dumbo.....My favourite TV show is American Chopper.....My favourite video game is Street Fighter.....I am a bit of a history nerd.....I work out five-six times a week.....My favourite drink is chocolate milk.....I have one piercing: my nose!.....I have become ridiculously spontaneous since I dropped out of college. I'll be going back next year to do a degree in health and exercise studies, so that should put a stop to it!
Essential Rebecca Knox Links...