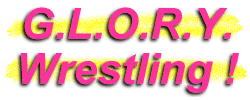 Phoenix
Wrestler
Phoenix, the self-proclaimed "Total Package Of Women's Wrestling", knew what she wanted from the time she was a little girl...and that was to be a professional wrestler. How serious was she? Well, she competed on her high school wrestling team for the sole purpose of toughening herself up mentally and physically for a career within the ropes. After graduating from high school, Phoenix continued on in her career as a freestyle amateur wrestler by competing as a card-carrying member of USA Wrestling. How's THAT for commitment?! Along with her amateur training, Phoenix has quickly learned the ins-and-outs of the pro game. Her knowledge of amateur wrestling combined with her pro skills make her an extremely tough opponent to face. The no-nonsense blonde loathes what she calls the "plastic excuses for women" in the wrestling business and she's vowed to put all of them in their place...and then go after the men! Pay attention to Phoenix. This ring warrior is working her way up the ladder of wrestling success VERY quickly.
Phoenix is as sexy as she is talented.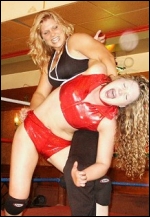 Phoenix seems to be enjoying herself as she tortures Macaela Mercedes with this vicious abdominal stretch.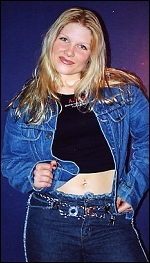 Behind this smile is a ruthless competitor who will stop at nothing to succeed!
The Firebird shows off her impressive strength as she presses her male opponent high overhead.
Phoenix's Stats...
Height:

5' 6"

Weight:

150

Hair:

Strawberry Blonde

Eyes:

Blue

Hometown:

Elmira, New York (USA)
Phoenix's Profile...
Gimmick:

Comically self-absorbed and oblivious to the fact that anyone or anything else around her matters.

Wrestling Style:

Mat technician, amateur wrestling repertoire and power moves.

Gear:

Always evolving, but currently black and white "comic book" style halter singlet with matching boots and gloves.

Biggest Win:

Defeating 14 men to become the first and only Female Battle Royal winner in Ontario, Canada.

Worst Loss:

Losing to Psycho in WXW. The 300-pounder then went on to hurt Phoenix after the bell with a powerbomb and two consecutive splashes.

Favorite Type of Match:

"I Quit" match.

Favorite Moves/Holds:

Gorilla Press Slam; Texas Cloverleaf; Missile Dropkick.

Finisher:

"Down in Flames" (Modified Michinoku Driver).

Biggest Allies:

Tracy Brooks; Kevin Grace; The All Knighters.

Most-Hated Enemies:

Psycho, Luscious Lilly, Angel Williams, and any other silicon-enhanced, plastic excuse for a woman.

Career Highlight:

Costing Reckless Youth a series of matches. Being a referee for a match with Superfly Jimmy Snuka. Also, kicking Nitro Girl Teri Bryne's @$$!

Favorite Wrestlers:

My favorite pro wrestler is, without a doubt, MYSELF! After all, I'm the total package: talent, ring prowess, strength and, on top of it all, I'm totally GORGEOUS!

Wrestling Ambition:

I want to finish-off all of the worthless women in wrestling so that I can get started on all the worthless men!
Phoenix's Personal Notes...
JTW Comment: Rather than provide personal info, Phoenix instead sent us this rant...
"Can you believe Phoenix has been a part of G.L.O.R.Y. since 2000? Your FIRST G.L.O.R.Y. Champion has grown quite a bit over the years. Like a fine wine, I only get better with time! Looking back, it seems to me that the more opponents that are thrown my way, the more vicious I've had to become. I cannot be blamed for my actions, but rather, should be commended for being a survivor. Everyone seems to have it out for the Firebird. Why do you suspect this is? Well, it's pure and simple jealously. Can we really blame the masses? After all, to be the best you have to beat the best. And judging by the view from the top of the mountain, for those of you willing to try to knock me off...it's a long way down. It's good to see some things never change."
Essential Phoenix Links...