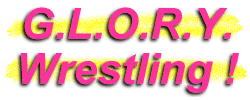 Persephone
Wrestler
Persephone isn't your typical female wrestler. This 5' 8", 140-pound ring beauty has taken indy wrestling rings throughout the Eastern United States and Mexico by storm. Her combination of raw talent and sex-appeal has captured the imagination of fans (especially the male fans!) everywhere she's performed. Persephone has dedicated herself to getting to the top in this business...and we won't be surprised when she makes it!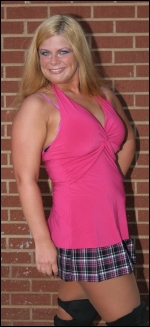 The fabulous Persephone!
Persephone proudly poses with her 2002 PGWA Award.
Persephone.
Who would guess that this sexy lady is a tough-as-nails pro wrestler?!
Persephone is one sexy lady inside or outside of the ring.
Persephone's Stats...
Height:

5' 8"

Weight:

140

Hair:

Blonde

Eyes:

Blue

Hometown:

Yorktown, Virginia (USA)
Persephone's Profile...
How It Started:

My brother took me to my first wrestling show when I was 17. Then instantly I was hooked. I told my parents I wanted to become a wrestler and they told me to wait until I was 18 because they thought it would pass...but it didn't! When I turned 18 I was trying to find out ways to get into the business. I went to a local indy show and told them I wanted to become a wrestler. Since there was no females in the area at that time, they taught me how to fall and just threw me in the ring with no training. I was horrible for six months and I was wrestling all guys at the time...then I came across Alexis Laree (who had was basically going through the same thing I was) and we clicked automatically. We started wrestling each other everywhere, and our matches were horrible! Then we wrestled in Raliegh one night, and Shannon Moore was at the show. We chatted a bit and he asked me how would I feel if he worked with me in the ring a little bit. Of course I said yes. Alexis and I drove four hours for training. Then a few months later, Shannongot signed by WWE and he had to leave for Cincinatti. That's when Marty Garner (Cham Pain) took over training for me. Those are the two I pretty much credit my wrestling to. I've trained a lot more with Marty, he's like a "father-figure" type to me when it comes to wrestling, but boy he sure did make a miracle happen because even though I still have so much more to learn, he taught me so much.

Gimmick:

If I'm a heel, I'm the little prissy girl whose always jealous of her opponent's popularity with the crowd. If I'm a face, I'm basically just an aggressive wrestler.

Wrestling Style:

Technical.

Gear:

I just show some cleavage...but try to look athletic at the same time

Titles Held:

UCW Women's Championship.

Biggest Win:

My first time wrestling in Mexico. It was really exciting hearing that crowd pop. But then again, I could've had a God-awful match and they still would've popped cuz I was a blonde in Mexico!

Worst Loss:

Whenever I lose to Alexis...which is nine times out of ten!

Favorite Type of Match:

Just a basic match with a good opponent.

Favorite Moves/Holds:

Dragon Sleeper.

Finisher:

Double-arm DDT.

Biggest Allies:

Alexis Laree, Special K.

Most-Hated Enemies:

Anyone that's across from me in that ring!

Career Highlight:

Being named PGWA Most Outstanding Wrestler of 2002.

Favorite Wrestlers:

I like studying a lot of Christian's matches. As far as the females, I'd have to go with Molly Holly.

Wrestling Ambition:

To get to WWE, of course!
Persephone's Personal Notes...
I'm addicted to X-Box! When I get off work, I get right on that thing 'til I go to sleep!.....I like watching movies. Going out to dinner and a movie is the idea of a perfect date for me.....I feel very fortunate to have a huge family. My parents are still happily married with my daddy having 14 brothers and sisters. I have an older brother too, who is like a best friend to me.....I really don't have a lot of people I could really call "close friends". I do have one friend, Tiffany, who could pretty much be called my best friend......I have two birds (cockatiels) named Shane and Pocket that I've had since I was 14-years old. In the summertime, they lay eggs and I like to hand-feed the babies to make them very friendly so that they can be sold to a good home.