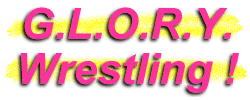 PINK
a.k.a. Angelina
Wrestler
While she's still in the relatively early stages of her wrestling career, PINK has already accumulated tons of experience with a long stint in the rings of Mexico's LLF. Battling under a mask, the fan favorite not only learned how to be tough while fighting the brutal, show-no-mercy luchadoras...she also learned an important lesson: nice girls finish last! Now unmasked, PINK is quickly garnering the attention of promoters and fans throughout the U.S. indy scene. Her rough, take-no-prisoners style of grappling is sure to bring her many victories...and admirers...as she continues to make her mark on the North American women's division.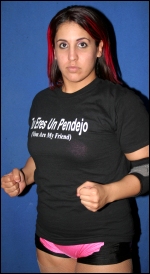 The ever-tough and talented PINK!
Early in her career, the masked PINK was a favorite in Mexican rings.
This lady isn't afraid to step into the ring and battle the men!
"Nice girls finish last!"...PINK takes particular delight in hurting Kassie Rains.
The powerful PINK circles the ring before locking up to do battle.
PINK's Stats...
Height:

5' 7"

Weight:

150

Hair:

Pink & Brown

Eyes:

Dark Brown

Hometown:

San Antonio, Texas (USA)
PINK's Profile...
How It Started:

I always was a strong, mean girl. I would watch the WWE PPVs at the local bar with my friends. One day I brought up wanting to be a wrestler with a complete stranger who happened to work for the place where I would begin my training. I began training at the Texas Wrestling Academy in January 2006 and spent a good part of that year training with Simply Luscious. I graduated from the academy in November 2007. Since then, my main trainer and mentor has been Raging Bull Manny Fernandez.

Gimmick:

When I started wrestling, I used my first name "Angelina". I was one of the only girls in Texas at the time. So I was the girl who wrestled guys or Simply Luscious (who is tougher than most men!). I wrestled as PINK under the mask in Mexico until I lost it December 2008. I kept the name PINK because I am not like any other girl out there. If you are in the ring with me, you'd better be ready to bring it!

Wrestling Style:

I can wrestle lucha, old-school, mat based or whatever it takes to kick your ass. I was a nice girl for a long time...but after I lost my mask, I became angry. I was not going to be a push-over anymore. Nice girls finish last! I am not afraid of ANYONE, male or female!

Gear:

All of my gear comes from Mexico. I love Mexico! My family came to the United States from Monterrey.

Titles Held:

Every time I wrestled for titles the girls always cheated to win! Another example of how nice girls finish last.

Biggest Win:

Finally defeating Simply Luscious in our hometown, San Antonio, Texas (RCW).

Worst Loss:

LLF, December 5, 2008: I lost my mask in a 5-way match vs. Tsunami, Chacala, Angelica Y Dama de Hierro.

Favorite Type of Match:

Tag matches! Never a dull moment!

Favorite Moves/Holds:

Flying head scissors; sunset flips; DDT variations; leg submissions; Mafia kick; axe kick;

"Flying Burrito"

.

Finisher:

"Gringa Killer"

; DDT; Mafia kick.

Biggest Allies:

I don't need any allies...I can hold my own very well!

Most-Hated Enemies:

Simply Luscious; La Chacala.

Toughest Opponent(s):

Hands down, Princesa Sugey.

"La Riena de Mexico...The Foreigner Killer".

Career Highlight:

RCW Returns

show in August 2008. PINK, Sicodelico Jr. and Hernandez defeated Andy Dalton, Joey Spector and Mr. Right. It was my first big show in my hometown...a main event match with my friends after I returned home from Mexico!

Favorite Wrestlers:

Female: Jazz & Princesa Sugey. Male: Shawn Michaels, Mr. Perfect, American Dragon and, of course, Raging Bull Manny Fernandez.

Wrestling Ambition:

My wrestling ambition is to be the best at what I do. Whether I have a contract or not, I want to keep wrestling as my means of paying the bills. I want to travel the world!
PINK's Personal Notes...
I come from a family of professional bowlers and I thought I would be one when I was growing up. I was very good, better than the older girls and even my mother! One day, a girl on my team would not leave me alone. For two years she had been pestering me. So when she pushed me, I punched her...breaking her nose and glasses. That's when my family moved me to contact sports! Even in contact sports I excelled. But if you tried anything underhanded with me you got knocked down. I think over the years many have awoken the "sleeping giant" in me. I am aggressive and strong and I couldn't be happier about it!.....On lazy days I enjoy Buffy, Angel, Golden Girls and General Hospital.