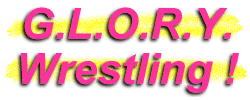 "NY Knockout" Nikki
Wrestler
Originally from Brooklyn, "NY Knockout" Nikki moved to the West Coast in 2002 to pursue her dream of becoming a professional wrestler. A college basketball and softball athlete, Nikki took to the ring quickly and discovered that she enjoyed the luchador-style of wrestling...high-flying, off the ropes and high risk appealed to this NYC native! Currently appearing in rings across Southern California, watch for Nikki T. to breakout as one of the up-and-coming indy girls to make it big in the Women's Division.
It's easy to see why Nikki is a "NY Knockout"!
Nikki heads to the ring.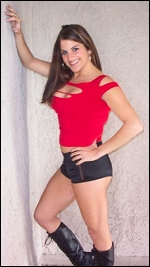 Gorgeous in black and red...
This knockout isn't afraid to mix-it-up against the guys.
Under the mask: Luchadora Nikki!
"NY Knockout" Nikki's Stats...
Height:

5' 9"

Weight:

150

Hair:

Dark Blonde

Eyes:

Blue

Hometown:

Brooklyn, New York (USA)
"NY Knockout" Nikki's Profile...
How It Started:

I really got into wrestling because I was a huge fan. I went to college on a basketball/softball scholarship so I was always athletic...but I loved the theatrics of the wrestling business.

Gimmick:

I'm a straight-forward chick that doesn't take crap from anyone...girls or guys.

Wrestling Style:

I do a lot of lucha mixed with American style.

Gear:

Usually three-quarter pants that lace up on the sides and the word KNOCKOUT on my butt, in case people forget.

Titles Held:

NTW Women's Champion.

Biggest Win:

When Crybaby and I beat the Poubelle twins at the Lucha Vavoom Halloween show.

Worst Loss:

Losing to a valet in 1:35 via a schoolboy at Pro Wrestling Iron.

Favorite Type of Match:

American, mixed with a little lucha.

Favorite Moves/Holds:

Insiguris; suplexes.

Finisher:

"The Nikkinoku Driver"

.

Biggest Allies:

Lizzy Valentine; Crybaby; Lil Cholo; Chippy Sanchez.

Most-Hated Enemies:

Candice LaRae; Carla Jade; Kitana Vera.

Toughest Opponent(s):

Mr. X; Silver Tiger.

Career Highlight:

Wrestling in Mexico (for LLF) and Japan.

Favorite Wrestlers:

Skayde; Nigel McGuinness; Alex Shelley.

Wrestling Ambition:

To feed all the starving children in the world, to make peace in the world, and then to take over the world...all through wrestling.
"NY Knockout" Nikki's Personal Notes...
I'm originally from Brooklyn, NY but I moved to Cali by myself in 2002 to pursue wrestling, thinking it was the place to be.....I graduated from the New York Institute of Technology in 2002 with a bachelor's degree in biology.....I attended NYIT on a basketball/softball scholarship.....My favorite sport in the whole world is baseball. I'm a huge Yankee fan! When I lived in Brooklyn, Yankee Stadium was my second home!.....I love Mediterrainian food.....For my "real job" I am a 7th grade Biology teacher in East LA.....Working out--whether it be in a gym or in the ring--is my therapy.....I love lucha libre.....I'm very close to my family and miss them terribly.
Latest "NY Knockout" Nikki News...
I have a lot of show dates coming up including fair shows. Check out my schedule on my MySpace page! Also, my tag partner Crybaby and I just did a photo shoot for an Oakley ad...coming out this January in magazines nationwide!
Essential "NY Knockout" Nikki Links...