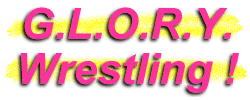 Nikita
a.k.a. "Queen of Chaos"
Wrestler
Looking for a winning combination of skill, determination and ring ability...all wrapped up in one beautiful package? Well, look no further than British wrestling sensation Nikita. This gorgeous London-based grappler has already made her mark on the UK wrestling scene in the few short years since she's been in action. Having faced veterans such as Sherri Martell and Violet Flame...as well as competing in Germany and the United States...Nikita has packed a lot of experience into her budding wrestling career. It looks like a bright future is indeed in store for this British beauty of the ring!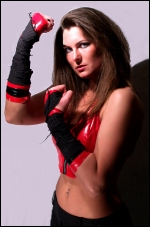 Beautiful and tough: UK wrestling sensation Nikita!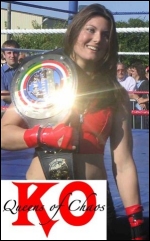 Nikita proudly carries her "Queen Of Chaos" title belt.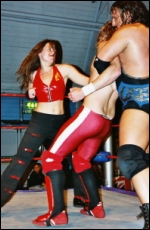 Nikita isn't afraid to mix it up with the big boys!
We dare you to find a sexier woman on today's wrestling scene!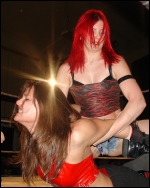 Nikita suffers at the hands of arch-enemy Sweet Saraya.
Nikita is more than happy to grab the mic and let the fans know what's on her mind.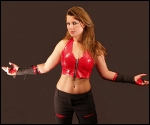 "Bring it on!"
Nikita's Stats...
Height:

5' 8"

Weight:

140

Hair:

Brown

Eyes:

Blue/Green

Hometown:

London, England (UK)
Nikita's Profile...
How It Started:

From the moment I caught my first glimpse of professional wrestling on TV (it was the WWF at the time) I was hooked. I was fascinated by the characters, the show, the glamour and, of course, the fighting. I started watching religiously both the WWF and WCW, taping every show and dreaming of being somehow involved one day. This went on for years and I never knew there was such a thing as an indy scene or training schools. Then one day I saw a show advertised here in London. I went down and instantly decided I could and would do this! So the next day I did some research on the internet, found a school and started training...

Gimmick:

I'm just a kick-ass bitch!

Wrestling Style:

My style is quite mixed and I adapt it depending on who I'm wrestling. A lot of the time I fight bigger guys...against whom I'm usually more of a flyer. With opponents smaller than me, I prefer to use power moves.

Gear:

I have recently changed my look and now wrestle in long, pin-stripe trousers...ripped at the front...with red PVC underneath and a little PVC top. I also wear red and black hand wraps to remind me of my thai boxing days.

Titles Held:

"Trans-Atlantic Wrestling Challenge" Women's Championionship. (TWC was a British vs. American tournament held in the UK for British TV, with wrestlers from the NWA.) I am also the first-ever and currently reigning women's champion for the Fighting Spirit Federation in France...a title which has given me the moniker "Queen of Chaos".

Biggest Win:

I was very proud to become the first women's champ for FSF, as it was my first proper belt and also because they are such a great company to work for...very professional and they attract great crowds.

Worst Loss:

Against Paul Travell from the Family in FWA. I really needed to kick his ass...

Favorite Type of Match:

Most of my matches have been pretty straight-forward...although I have won a tables match, which was fun. And it is my burning ambition to be in a cage match one day.

Favorite Moves/Holds:

Spinning backbreaker; Samoan drop; Insu giri; Missile dropkick; I'm more of a move girl, not so much a technical wrestler...

Finisher:

Spinning neckbreaker onto the knee or Rockbottom into a backbreaker.

Biggest Allies:

Hade Vansen, the FWA British Heavyweight Champ. We had both been somewhat overlooked and pushed into the background in recent months and so we decided to team up and show people we are not to be messed with. I helped him get the title and now will make damn well sure he holds onto it for a while.

Most-Hated Enemies:

Sweet Saraya has always been the biggest thorn in my side. She's the only woman in this country who stops me from being the undisputed Queen of British Wrestling.

Toughest Opponent(s):

Sweet Saraya and Luna Vachon. They are both hard as nails and not afraid to play dirty.

Career Highlight:

Probably jumping off a 25 foot balcony at York Hall for another FWA show. The crowd popped like crazy, it was the most amazing feeling! To be honest, it was one of the easiest bumps I've ever taken, and yet it seems to be the one that has gotten me the most respect and notoriety out of everything I've achieved in my career.

Favorite Wrestlers:

My favourite wrestler in the UK is probably Jonny Storm...that boy is electric in the ring. Another awesome British wrestler is Darren Burridge...he is one of our hottest new stars right now. Then there's Alex Shane...who can make the audience care about a match (and more often than not hate him with a passion) like no other I know over here. Worldwide, of course, there are lots of others that I'm totally in awe of, but the list is endless so I won't even start.

Wrestling Ambition:

Things are on the up for me at the moment. I'm wrestling up and down the UK, all across Europe and I'm associated with the top player in the FWA. But of course, that's not enough! As far as ambitions go: first of all I will do whatever it takes to hold on to the FSF Championship in France. Next, I will make sure that everyone sees me as not only as the "Queen of British Wrestling" , but as the supreme female wrestler in the whole of Europe. My plan for later this year is also to go to Mexico and the States to make my mark over there.
Nikita's Personal Notes...
I absolutely worship cats, although I don't have one at the moment.....I speak fluent German.....I studied Film and Drama for three years.....My favourite TV shows are La Femme Nikita (yes, that is where my wrestling name comes from) and Smallville.....I am totally obsessed with Lex Luthor! What I love about his character is that he is always just there on the verge of good and evil and you never quite know which he is.
Essential Nikita Links...