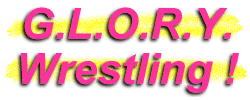 Nicole Starr
Wrestler
Nicole Starr has been bruising opponents throughout the rings of West Virginia over the past several years...and wrestling fans in the area have sat up and taken notice of this brash and sometimes brutal young lady. Although she was trained by ring vet Brandi Alexander very early in her career, Nicole and her former trainer have become hated enemies as they've battled furiously since then. The scrappy and sexy Ms. Starr has caught the attention of many long-time wrestling fans due to her old-school style in the ring. Some have said that they see her as a modern day version of the pro ladies of the 50s, 60s and 70s...the so-called "Golden Age Of Women's Wrestling". One thing is for sure: there will be plenty of gold in the future of this young ring "Starr"!
Nicole Starr is the definition of "old-school".
Nicole tortures an opponent's legs.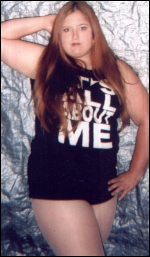 A beautiful wrestling "starr".
Nicole is on the wrong side of this action!
Trapped beneath Lexie Fyfe and Fantasia: not a good position to be in!
Nicole Starr's Stats...
Height:

5' 2"

Weight:

160

Hair:

Red

Eyes:

Blue

Hometown:

Beckley, West Virginia (USA)
Nicole Starr's Profile...
How It Started:

It all started when I was about 7 years old. I saw wrestling on TV and liked it a lot. When I was 13, my step dad took me to my first live wrestling show and "The Foxy Lady" Lexie Fyfe was on the card. I was hooked! I knew then that I was going to become a wrestler. A couple of years later, two friends of my step dad started APW--an indy wrestling organization in the Beckley/Oak Hill, West Virginia area. So in January of 2000, I stared training with J.D. Rotenberry, and later with Brian Logan & Brandi Alexander.

Gimmick:

I don't have a gimmick. I don't want a gimmick. All I want is to collect my victories whatever way I can.

Wrestling Style:

Super-Heel, old-school and no nonsense in the ring.

Gear:

I usually wear short's and a shiny top. But every once in a while I wear a one-piece oufit.

Titles Held:

Mideastern Ladies Chamionship.

Biggest Win:

Pinning Brandi Alexander in a tag match.

Worst Loss:

Tagging with the New Breed against The Urban Death Squad & Mandy. Miss Mandy pinned me after the U.D.S. double-rock bottomed me!

Favorite Type of Match:

Tags and singles.

Favorite Moves/Holds:

Figure-4.

Finisher:

DDT.

Biggest Allies:

Leilani Kai; Harley Race; Misty Blue.

Most-Hated Enemies:

Brandi Alexander; Sarah Lynn; Misty James; Lexie Fyfe.

Career Highlight:

When I had the opportunity to team with Little Jeannie to wrestle Brandi Wine and Brandi Alexander.

Favorite Wrestlers:

Madusa; "Foxy Lady" Lexie Fyfe; Brian Logan.

Wrestling Ambition:

To become the WWF Women's Champ.
Nicole Starr's Personal Notes...
A lot of my life revolves around wrestling and family. But when I am at home I enjoy my two cats and three dogs.....I also love mexican food. I can't get enough of it!.....My hobby is painting.....As you can see, I am pretty much a homebody.
Essential Nicole Starr Links...