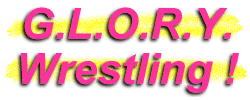 Nicole Matthews
Wrestler
Hailing from Western Canada, Nicole Matthews is quickly making a name for herself on the North American wrestling scene. We wish we could say that she's doing it by being a good, clean, technically-oriented wrestler. But, truth is, this cocky and arrogant lady is making her way to the top of the pro wrestling ranks using the old-fashioned shortcut method: she cheats! Whether she's wrestling one-on-on or in tag-team competition as one half of the Canadian Ninjas with friend and fellow G.L.O.R.Y. Girl Portia Perez, you can count on plenty of rule breaking from this nasty ring beauty. Obnoxious? Bratty? Loud? Irritating? Yup...that's Nicole Matthews!
The cocky, brash and arrogant Nicole Matthews!
We did mention "cocky", right?
Nikki with partner Portia Perez:
The Canadian Ninjas
.
The ref can count all he wants...it doesn't look like Nicole is going to give up on that choke!
Nicole Matthews' Stats...
Height:

5' 8"

Weight:

134

Hair:

Brunette

Eyes:

Green

Hometown:

Coquitlam, British Columbia (CAN)
Nicole Matthews' Profile...
How It Started:

I have been a fan of wrestling for as long as I can remember. My brother got me hooked at an early age. I started going to local independent shows when I was around 16 and decided to give it a go at 18 when I got to see a friend of mine debut. I haven't looked back since!

Gimmick:

I am very loud, very obnoxious and very bratty. The fans aren't so fond of me.

Wrestling Style:

There is a bit of technical wrestling, a bit of flashy, show off wrestling and

a whole lot of rule breaking!

Titles Held:

Supergirls Title.

Biggest Win:

My biggest win was against LuFisto in my home promotion to retain my Supergirls Title. Some may say Portia helped me, but I maintain she was there strictly for moral support!

Worst Loss:

Losing my first Supergirls Title to Veronika Vice.

Favorite Type of Match:

Straight up one-on-one matches.

Favorite Moves/Holds:

Northern Lights Suplex; Fisherman Suplex; Backbreaker.

Finisher:

Roll the Dice.

Biggest Allies:

Portia Perez; Sid Sylum; Scotty Mac.

Most-Hated Enemies:

Veronika Vice; Penni Lane.

Toughest Opponent(s):

LuFisto; Nattie Neidhart.

Career Highlight:

Debuting in Shimmer in October of 2007.

Favorite Wrestlers:

Bret Hart; Owen Hart; Chris Jericho. I love my fellow Canadians!
Nicole Matthews' Personal Notes...
Outside of wrestling, I go to university where I am studying Kinesiology.....I used to play volleyball and swim competitively, and now I enjoy doing both for fun.....I'm very interested in fitness, and am thinking about doing it as a career in the future.....I have a love affair with food!
Essential Nicole Matthews Links...