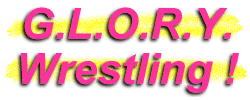 Nayati Mattox
Wrestler
A beautiful lady with a unique name, Nayati Mattox is prepared to put it all on the line to make it big in the world of professional wrestling. This Texas-based grappler started training at 15 years of age...chucking a three year career in competitive dance to follow her dreams inside the ring. An extreme decision you say? Perhaps...but this beautiful and tough Texan doesn't regret it for one minute! With that kind of dedication to her wrestling career, Nayati Mattox's climb to the top of the sport seems inevitable.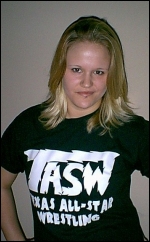 Nayati Mattox!
Nayati will play dirty if she has to. Just ask Venus and her hair!
It may be hard for some to believe that this beautiful and sexy lady is an up-and-coming professional wrestler.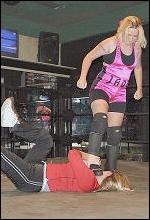 Nayati takes some punishment as Jade grinds a boot into her throat.
Ms. Mattox is determined to make it as far as she possibly can in the world of pro wrestling!
Nayati takes down Jade with a nice arm drag.
Nayati Mattox's Stats...
Height:

5' 3"

Weight:

138

Hair:

Blonde

Eyes:

Green

Hometown:

Tomball, Texas (USA)
Nayati Mattox's Profile...
How It Started:

I have been obsessed with pro wrestling since I was two years old. I used to watch it with my Dad and older brother...I could watch it for hours and never get bored! I was never into all the different girly cartoons and Barbies. I was into watching wrestling...and wresting action figures were the closest thing to a Barbie that I had! When I was about 12 I knew I wanted to be a wrestler, but I had no idea how to go about getting trained, who to talk to or anything. So I had to wait for three more years before I would finally get the chance I had been wanting more than anything. I was 15 and one month away from going to National Finals to compete in dance competitions when I found out about a wrestling show in Humble, Texas (TASW). I went with my brother, got the phone number they had for the wrestling school and gave them a call. I got a call back the same day telling me to be there the next Tuesday. Since Dance practice was everyday, I had to make a choice between wrestling and Dance. Even though I had been working towards the National Dance Finals for three years, I gave it up to pursue wrestling. I haven't looked back and I don't regret the deicision!

Gimmick:

Most of the time I am a babyface, however, I don't depend on my looks, chest or anything like that to get me over with the fans. I use my personality. You can count on there being "some little something" in my matches...a touch of comedy or a bit of sarcasm maybe. And every now and then when I am a heel, I am down right evil! I don't care who I hurt or what has to be done to get what I want. I'm going to do it and not feel bad about it after it's been done!

Wrestling Style:

Technical/Old School.

Gear:

My gear changes almost from week to week. I don't like wearing the same thing week-in and week-out. It gets boring and doesn't show much personality, so I always like wearing something different.

Biggest Win:

Over Spector and Darin Childs in a "Dress vs. Dog Food Match". If the guys lost they had to wear dresses. If the girls lost we had to eat dog food.

Worst Loss:

To Miss Erin Dangerous at TXW in Corpus Christi, Texas.

Favorite Type of Match:

Mixed-tags and singles.

Favorite Moves/Holds:

Tilt-a-Whirl Head Scissors; Full Nelson Slam.

Finisher:

Double-Underhook DDT; Spear.

Biggest Allies:

Just about everyone!

Most-Hated Enemies:

Darin Childs; Spector; Heather Divine.

Favorite Wrestlers:

Eugene; Victoria; Rey Mysterio.

Wrestling Ambition:

I am going to keep going until I no longer can. I love wrestling more than I love life. If I could never wrestle again, I would have no reason to keep going. I want people to be able to say I am one of the best around because I have heart and I am always trying to learn new things and better myself. Where will it lead? Honestly, I have no clue. No one does. I would love more than anything to get signed by WWE one day just like the next person. But if that never happens, my #1 goal is to be able to look back and say I had a blast trying.
Nayati Mattox's Personal Notes...
I am very much a home body. I like hanging out at home as much as I can. I actually enjoy cleaning (as hard as that is to believe!).....I love to cook. (And I think I am a very good cook, to tell you the truth!).....There are only two people im my life that I am really close to. First is my Mom, who is my best friend and who has been there for me every step of the way. She's been my biggest (and at times my only) supporter. The other is my boyfriend, who I love with all my heart and soul. He is the greatest guy I have ever met!.....Other than wrestling, a lot of my time is spent with my animals. I love all animals. I have four cats (Manx, Calico, Blue Tip Siamese and Calico/Manx). All of which I hand raised and bottle fed, so they are more like my kids! lol. I have two dogs (Boxer and Beagle), three doves and fish!.....That pretty much covers everything I do and how I spend my time. I want very much to get married and have a family of my own one day. But for right now, I am just trying to get as far as I can in wrestling so that I can make my trainers and my mom proud of me. And when the day comes that I can no longer wrestle, my goals will then be to be a great wife and mother.
Essential Nayati Mattox Links...