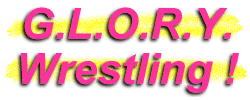 Mystique
Wrestler
She may be a Catholic School Girl, but that doesn't mean that Mystique is a good little girl. In fact, this lady will fight, brawl and break the rules to win...or even just to amuse herself! Mystique has also aligned herself with the dark, satanic Sam Hayne. As his manager, Mystique causes as much havoc outside the ring as she does inside. If there is trouble to be found, you can expect that Mystique is not far away...
Mystique claims to be a Catholic School Girl gone bad!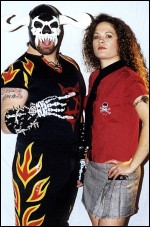 Mystique can often be found by the side of her main man, Sam Hayne.
Mystique is not afraid of intergender action. Look out for that steel barricade!
Mystique in a more relaxed moment.
Mystique's Stats...
Height:

5' 6"

Weight:

130

Hair:

Brown

Eyes:

Brown

Hometown:

Minneapolis, Minnesota (USA)
Mystique's Profile...
How It Started:

There is no story really. I have always watched and decided I could do it, so I started checking-out training facilities. Since then I have been managing Sam Hayne and Dark Phoenix as well as wrestling.

Gimmick:

Catholic School Girl gone bad.

Wrestling Style:

Old School rule breaker, but can do most anything.

Gear:

Shirt & tie, plaid bondage pants and black boots.

Biggest Win:

August 11, 2002: Mixed Tag. I teamed with Dark Phoenix to defeat ODB & Shifty.

Worst Loss:

Autumn of 2001 when I lost To Phoenix.

Favorite Type of Match:

Brawls.

Favorite Moves/Holds:

Flying Head Scissors.

Finisher:

Hurricanranna.

Biggest Allies:

Sam Hayne; Dark Phoenix; ODB; Kamikaze Ken; Kujo.

Most-Hated Enemies:

Kendra.

Career Highlight:

The first time I saw one of my matches on TV.

Favorite Wrestlers:

Undertaker.

Wrestling Ambition:

To accomplish as much as I can as a female wrestler. I want to take it as far as I can and be seen as a female that can wrestle...not just get in there as eye candy. Eventually, I'd like to be considered good enough wrestler to train other girls.
Mystique's Personal Notes...
Outside of wrestling, I am attending school to get my paralegal degree and would like to specialize in family law or employment law. After that, I would like to go on for Criminal Justice and then specialize in Juvenile Rehabilitation.....I moved to Wisconsin from Minnesota (where I had lived my entire life). Luckily for me, it was not a big change!.....I have recently taken an interest in bodybuilding.....I spend most of my time with my boyfriend.....I also enjoy hockey, football, and muscle cars. My dream is to get a black 1969 Chevelle with red flames on it.....My favorite colors are red and black.....I have two birds, Sassy and Dude, but when I buy a house I plan to buy two dogs: a Rottweiler and a German Shepard.....My favorite musicians are Ozzy Osbourne and Elvis.....I do not watch much TV, but when I do, it's usually The Sopranos (which my boyfriend introduced me to) and X-Files.
Essential Mystique Links...