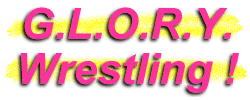 Ms. TNT
Wrestler
Ms. TNT is perfectly named for the style of wrestling she brings to the ring: explosive! This short-fused, dynamic diva will step through the ropes to face any opponent...big or small, male or female...and give them everything she's got!
Ms. TNT
Ms. TNT with her main ally, Valek.
The Dynamic Diva, Ms. TNT.
Ms. TNT's Stats...
Height:

5' 3"

Weight:

120

Hair:

Brown

Eyes:

Brown

Hometown:

Syracuse, New York (USA)
Ms. TNT's Profile...
How It Started:

I met a Promoter/Wrestler named Viper who was starting a new wrestling school called the Danger Zone. I started training with him and I've been working ever since.

Gimmick:

A short-fused, dynamic diva.

Wrestling Style:

High Flyer; Old School; Technical.

Gear:

White corsette and black shorts with my Air Force One wrestling boots.

Titles Held:

ICW Women's Title; IWA Women's Title; ACPW Woman's Title.

Biggest Win:

Defeating Eva Destruction.

Worst Loss:

Losing my title to Natasha The Russian Beauty.

Favorite Type of Match:

Grudge Matches; Intergender Matches; Cruiserweight Matches.

Favorite Moves/Holds:

Tilt-A-Whirl Headscissors.

Finisher:

Dynamite Drop.

Biggest Allies:

Valek; Persephone; The Underworld.

Most-Hated Enemies:

Eva Destruction; Natasha The Russian Beauty.

Toughest Opponent(s):

Eva Destruction; Fantasia.

Career Highlight:

Being the first winner of the IWA Woman's Title.

Favorite Wrestlers:

Jeff Hardy; AJ Styles; Sonjay Dutt; Chris Sabin; Mickey James.

Wrestling Ambition:

Getting into the pros.
Ms. TNT's Personal Notes...
I'm a mom of three girls.....I've always had a love for sports.....My favorite colors are purple and black.....I like tattoos.....I enjoy all types of music....I also like vampires!.....I worked a show where I received two compressed vertebrates in my neck, but you can't hold me down. I come back for more!
Essential Ms. TNT Links...