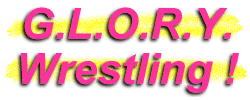 Morgan Rockafeller
Wrestler
How many wrestlers can say that they were introduced to professional wrestling through a course taken during their college career? Well, we know of at least one: Morgan Rockafeller! Although she was a wrestling fan in high school, Rockafeller's university classroom encounter with a trainer/booker convinced her to dive into the world of pro wrestling...and she hasn't looked back since. Morgan is currently making a name for herself in the rings of western Pennsylvania. But don't be surprised if you soon see the Rockafeller name springing up in rings across the country.
Morgan Rockafeller!
Ms. Rockafeller sports some unique wrestling gear.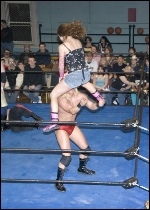 Morgan hits one of her favorite moves...the hurricanrana!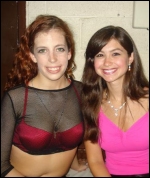 Morgan and fellow G.L.O.R.Y. Girl Miss Michelle.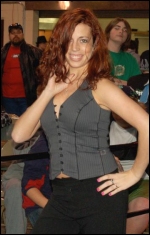 The sexy Ms. Rockafeller.
Morgan Rockafeller's Stats...
Height:

5' 5"

Weight:

120

Hair:

Burgundy

Eyes:

Green

Hometown:

Williamsport, Pennsylvania (USA)
Morgan Rockafeller's Profile...
How It Started:

At Penn State, they had a class called

"The History of Professional Wrestling"

. Since I found a love for professional wrestling while I was in high school, I decided to attend the class. For one lecture, Kasanova Kato came in and spoke about being a booker and a trainer on shows and he invited anyone interested to come and try out at Keystone Championship Wrestling's school. After a few months of trying to dig up the courage, I finally went and tried-out...and that's when my training started! It's been one of the best experiences I've ever had in my life.

Gimmick:

Early in my career, I was a rich, snooty diva. But recently I've taken on an edgier, ready-for-a-fight style.

Wrestling Style:

Some high-flying with some hard brawling strikes mixed in.

Gear:

Jean cutoff shorts and a tank top with fishnets. That is, unless, I'm feeling a little hippie-ish...then I break out my tie dye and face paint!

Biggest Win:

Over Stacy Hunter and Dash Bennett in a mixed tag match at PWX. It was only my second match ever, and Chris and I pulled an effort out that allowed us to pick up the win, although outweighed and out powered.

Worst Loss:

My first match ever, I got laid out when Scottie Gash gave me his Spotlight Drop during a mixed tag match.

Favorite Type of Match:

No preference. I'm ready for any type of match thrown my way.

Favorite Moves/Holds:

Hurricanrana; flying head scissors; marital arts kicks.

Finisher:

"M-Plant":

Kickstart DDT. Or the

"Old School Expulsion":

Reverse facing Twist Of Fate.

Biggest Allies:

Chris LeRusso; The West Coast Hustlas; Jimi the Hi-Flying Hippie.

Most-Hated Enemies:

Krystal Frost; Stacy Hunter; Roxy; Bobby Shields; Scottie Gash; Dash Bennet.

Toughest Opponent(s):

Stacy Hunter, who doubles me in weight.

Career Highlight:

At the Devil Bhudakahn Memorial Show, I got to get in the ring and whip off two of my favorite moves--the flying head scissors and the hurricanrana--to help out Chris LeRusso. The show was for a great cause and I was proud to be a part of it and work on it.

Favorite Wrestlers:

Lita, Mickie James, Beth Phoenix, Daizee Haze, ODB, Edge and Christian Cage. Each person is an individual who you can't take your eyes off of when they are in the ring.

Wrestling Ambition:

I would love to break into TNA or WWE, but for now, until I'm finished with school, I'm content working around the indy federations.
Morgan Rockafeller's Personal Notes...
Currently, I'm a senior at (we are!) Penn State University, finishing up my degree in Psychology.....Before I discovered pro wrestling (in high school), I did fourteen years of Classical Dance (yes, ballet!) and six years of Cheerleading.....I've always been quite active and love the physicality of wrestling mixed with the theatrics of it.....I'm addicted to my iPod! I have everything on there from My Chemical Romance to Faktion to Sick Puppies...and everything in between!.....My favorite colors are emerald green and neon pink.....I love Pepsi (but I can stand Coke) and am highly addicted to McDonald's and Papa John's!....To relax, I love doing yoga stretching.
Essential Morgan Rockafeller Links...