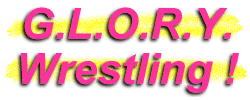 Morgan
Wrestler
She's dedicated, tough, and as imposing in the ring as the Rocky Mountains which border the territory she calls home. Morgan has already captured several ladies' titles...and with the talented brunette grappler now expanding out from her Utah base of operation, watch for Morgan to gather more fans as she continues to mow down her opponents!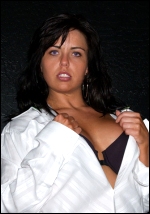 Sexy wrestler Morgan!
Morgan punishes her opponent with a tight side headlock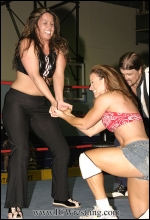 Morgan has the edge in this test of strength.
Ivory prepares to fling Morgan into the far ropes.
Morgan's Stats...
Height:

5' 8"

Weight:

155

Hair:

Brown

Eyes:

Depends on my mood.

Hometown:

Provo, Utah (USA)
Morgan's Profile...
How It Started:

I started watching Saturday Night's Main Event with my dad and thought, "Wow...wouldn't that be cool!" Then, I kind of fell out of the loop until I saw D-Generation X and Chyna. That's when I knew that I could do it.

Wrestling Style:

Hybrid High-Flyer/Power/Brawler.

Gear:

Typically, black shorts, a bustier top and boots.

Titles Held:

NWA-Rocky Mountain Women's Champ; APW Cruiser Weight Champ; Ultra Championship Wrestling Women's Champ; Ladies Professional Wrestling Federation Champion; World Pro Wrestling Womens Champion; Impact Zone Wrestling Womens Champion.

Biggest Win:

Pinfall over the former NWA World Women's Champ, Madison, in non-title match-up.

Worst Loss:

Any loss is a bad loss.

Favorite Type of Match:

Three falls, lucha libre!

Favorite Moves/Holds:

Samoan Drop; Double underhook suplex; hip attack; DDT.

Finisher:

Arm-hook DDT.

Biggest Allies:

The Navajo Warrior; Erica D'Erico; Billy V; Hawaiian Lion.

Most-Hated Enemies:

Sister Destiny; Lexie Fyfe; Madison; Adrenelyn; Dixie Doyle.

Toughest Opponent(s):

Madison; Sara Del Rey; Cheerleader Melissa; Rebecca Knox.

Career Highlight:

Its all been a highlight so far!

Favorite Wrestlers:

Victoria; Chris Jericho; Faby Apache; Mickie James; Chris Sabin; Jerry Lynn.

Wrestling Ambition:

To be the best I possibly can.
Morgan's Personal Notes...
I'm a kickback kind of girl. I love to play my guitar (louder than my neighbors like!).....I keep Saliva in my stereo quite a bit, and then go country dancing! I guess that makes me versatile, huh?.....I have a peanut butter addiction, second only to my chocolate habit.....I have a cat named Yoda who could have been a pro boxer, and a dog named Koji that thinks she is a pro wrestler.....I love wrestling!!! It's cool to be a fan. It's even cooler to be a fan and do what I do.
Essential Morgan Links...