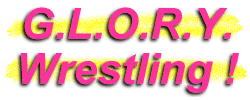 Moonpuppy
Wrestler
Hailing from the swamps of Louisiana, Moonpuppy has entered the world of professional wrestling with the intention of going all the way to the WWE. Given her name by the legendary Moondogs, Moonpuppy has adopted a style similar to that of her mentors. In the ring, "Pup" doesn't go for a glitzy or glamorous look. She could care less! All she cares about is dishing out pain, punishing her opponent and capturing victory by any means possible!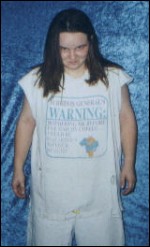 From the swamps of Louisiana: Moonpuppy.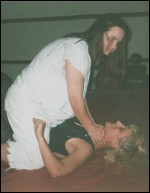 Moonpuppy puts the choke on her biggest enemy, Lady Vendetta.
Moonpuppy takes a choke over the top rope in one of her many battles with Vendetta.
Moonpuppy's Stats...
Height:

5' 4"

Weight:

150

Hair:

Brown

Eyes:

Brown

Hometown:

Swamps of Louisiana (USA)
Moonpuppy's Profile...
How It Started:

My father has been involved in the wrestling business, so I have grown up around it my whole life. My dad told me to come and watch them work out one day. It didn't take me long to realize that I wanted to give it a try. Not long after that first visit, I began my training.

Wrestling Style:

Technical; Old-School.

Gear:

My outfit is a old shirt that has holes in it. I have a pair of old jeans that have the bottoms cut off.

Biggest Win:

It was in Cannelton, Indiana in a match against Slate. Clipper Chris Kane jumped in the ring and tried to hit me with a steel chain. I moved out of the way at the last second and Slate was the one who got hit with the chain. He went down and I covered him for the win.

Worst Loss:

Losing to Sonya Blackhawk in a "Loser Eats Dog Food" match. I lost when Clipper Chris Kane got involved and cost me the match. I was handcuffed to the second rope and fed dog food. Yuck!

Favorite Type of Match:

Mixed tag-team.

Favorite Moves/Holds:

DDT.

Finisher:

Bulldog.

Biggest Allies:

Red Baron; Sgt. York; Lucky Dane; Black Death; and many more.

Most-Hated Enemies:

Lady Vendetta.

Career Highlight:

Working with the Moondogs. They liked me...and that's how a got my name!

Favorite Wrestlers:

Mankind. I had the chance to meet him and I was impressed with how nice he was and how he took the time to talk to everyone.

Wrestling Ambition:

My dream is to make it to the WWE.
Moonpuppy's Personal Notes...
My hobby is collecting Beanie Babies. I've been collecting them for a few years now.....I like to play with my dogs, Tiny and Hugs.....I love spending time with my mom, and also working with little children.
Essential Moonpuppy Links...