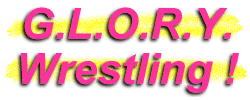 Molly McShane
a.k.a. Mystique
Wrestler
A veteran of the squared-circle returns! After a brief hiatus from the ring wars in the late-90s, Molly McShane has returned to action. The fiery, Irish lass is back and once again making her presence felt in Mid-Atlantic wrestling rings. While McShane has the skills necessary to wrestle a good, clean, technical match...she rarely does. The rule-breaking redhead prefers instead to simply do as much damage as she can to opponents. Beware: Molly McShane is back!
Sexy Molly McShane stretches in the corner.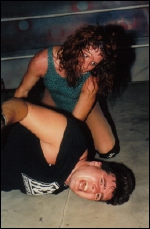 Molly is not afraid to step into the ring against the men!
Ms. McShane's athletic body shines in this outfit.
Molly riles up the crowd from the second rope.
Molly McShane's Stats...
Height:

5' 5"

Weight:

130

Hair:

Red

Eyes:

Blue

Hometown:

Northern Virginia, (USA)
Molly McShane's Profile...
How It Started:

My ex-husband sparked my interest in watching wrestling and I happened to catch GLOW on TV one day. I have a history of gymnastics and weight training, and I thought to myself, "I could do that!". So with the help of a friend, I got started in pro wrestling. I was trained by Black Jack Mulligan...the only girl in the class!

Gimmick:

My gimmick is me: a fiery, hot-tempered, Irish redhead! I tend to be a heel along with being athletic and high-flying.

Wrestling Style:

As a heel, lots of animosity mixed in with plenty of athletic maneuvers.

Gear:

I prefer two-piece outfits. I have a cool navel tattoo that I like to show-off and, since I can still wear a two-piece and look good, why not?!

Titles Held:

I've held various titles: Caribbean Ladies Champ, Special Events "Rookie Of The Year", Cauliflower Alley's "New Up And Coming Female Wrestler" and other ladies titles all up and down the East Coast.

Favorite Type of Match:

I enjoy basic athletic matches that showcase ring skills.

Favorite Moves/Holds:

I like to do the Jackknife and back flip over my opponent after being Irish-Whipped to the turnbuckle.

Biggest Allies:

I'm basically a loner now in wrestling. I took some time off with a pregnancy in 1999 and sort of got out of touch.

Most-Hated Enemies:

Who are my enemies? I'm ready to get out there and make some!

Career Highlight:

Probably the most fun I had was wrestling two DJs

(Ron and Ron Show)

at the "Bash At The Beach" Orlando arena when Hogan came out of retirement. They actually aired a minute of the match on pay-per-view!

Favorite Wrestlers:

I have many lady wrestlers from the past that I admire. Probably one of my favorite women wrestlers to watch and work against is Luna Vachon.

Wrestling Ambition:

I am back and ready to get down with some serious wrestling again. I've been training and I'm back in fighting shape. Bring the offers on!
Molly McShane's Personal Notes...
Along with my career in wrestling, I am also a nurse.....I care for my beautiful son who was born in 2000.....I love to work out as much as I can.....Wrestling is my love, passion, and will always be in my blood!
Latest Molly McShane News...
I've been out of the game for a little while...but I have been training with weights and cardio and I still have that charismatic Molly McShane personality that made me a true contender and entertainer in the ring. I'm ready to bring it to anyone that wants to get in the squared circle with me! You can reach me at: redheadwrestler@aol.com.
Essential Molly McShane Links...