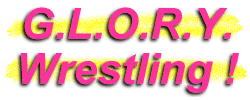 Mistress Belmont
a.k.a. The Slave Girl
Wrestler
Meet one of the freakiest, nastiest and most unpredictable ladies in the ring today: Mistress Belmont! Where to start when describing this weird wrestler? The blue hair? Perhaps the deathly white face? Then there's those blood red eyes. And we haven't even gotten to the black latex outfit or that leather whip. Freaked-out yet? Well, her opponents usually are! And if the Mistress' appearance doesn't make an impression on them, her wrestling style certain does. It's not so much a wrestling style as it is pure punishment. No complex maneuvers here. Mistress Belmont simply pummels, stomps, slams and chokes away at her unfortunate opposition. Mistress Belmont...one of the most unique (and craziest) ladies on the scene today!
Unpredictable, violent
and a little freaky
: Mistress Belmont!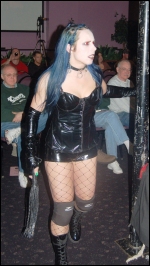 The blue-haired Belmont heads to the ring.
No technique here...just a blatant choke over the middle rope.
The Mistress is always looking for a way to use her trusty whip.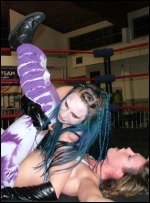 Belmont hooks the leg and goes for the pin.
Mistress Belmont's Stats...
Height:

5' 6"

Weight:

135

Hair:

Blue

Eyes:

Red

Hometown:

Portland, Maine (USA)
Mistress Belmont's Profile...
How It Started:

I've been watching wrestling since I was about twelve years old, and I was greatly influenced by Sensational Sherry--I wanted to be as evil and conniving as she was. I always wanted to get into wrestling, and a few years ago my brother (who also wrestles) found a school in Manchester, New Hampshire that is run by Steve Bradley. We both joined within a few months of each other. The rest, as they say, is history.

Gimmick:

I'm the crazy, blue-haired chick that hears the voices in her head. I'm an incessant rule-breaker. I couldn't fight fair if you paid me!

Wrestling Style:

I tend to rely on basic chokes, slams and suplexes. I have no need to be fancy.

Gear:

I wear assorted vinyl outfits (I lose about 5 pounds every time I wrestle...that stuff doesn't breathe!), paint my face white and wear red contacts just to freak-out my opponent a bit.

Titles Held:

My occasional partner, DellaMorte, declared us the WWW Tag Team Champions even though, as of this writing, they don't really exist.

Biggest Win:

Winning the non-existent WWW Tag Team Title with DellaMorte.

Worst Loss:

I had a WWW Title shot against Lexxus and came up a bit short. But losing my chance at that title was upsetting.

Favorite Type of Match:

I really love a good hardcore match. Nothing like using my whip legally!

Favorite Moves/Holds:

I love basic slams like spine-busters, back breakers and painful, back-hurting moves.

Finisher:

A modified Death-Valley Driver someone named

"The Slave Driver"

.

Biggest Allies:

DellaMorte; Tanya Lee.

Most-Hated Enemies:

Nikki Roxx; Lexxus; Violet Flame.

Toughest Opponent(s):

Lexxus...that chick is small, but she packs a mean forearm!

Career Highlight:

Being invited to participate in the first anniversary WWW show is a definite highlight. The show has continually grown and I'm privileged to be a part of it!

Favorite Wrestlers:

Shawn Michaels; Brutus Beefcake; Trish Stratus; Jay Lethal; "Mofo" Steve Bradley.

Wrestling Ambition:

To wrestle where women's wrestling isn't a T&A show.
Mistress Belmont's Personal Notes...
I work in an office, so I tend to stick out a bit with my blue hair and business suit.....I love to cook (especially anything sweet!) and I try to stick to an organic diet.....I'm passionate about the environment.....For fun, I love playing video games and watching MXC.....I generally don't watch a lot of wrestling on television--I don't have the time.....I go to the gym whenever I get a free moment and I try to stay in good shape.....I enjoy the occasional night out.....Anything with vodka is good in my book!.....Right now I don't have any pets, although my little feline buddy, Oliver, comes to visit me occasionally. He's almost as crazy as me!
Essential Mistress Belmont Links...