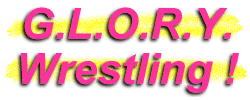 Lindsay Lynn
Wrestler
Vermont's Lindsay Lynn has taken the big step from wrestling manager to in-ring competitor. Starting in the business as a manager to such New England wrestling stars as Lenn Oddity and Alex Chamberlain, Lynn always knew that she wanted to do more than help her associates from ringside: this lady wanted to be right in the middle of the action! And that's where Lindsay finds herself now. Still learning the ins-and-outs of combat inside the ropes, Lindsay Lynn is taking a lot of bumps. She's absorbing a lot of pain. She's sporting a lot of bruises. But this tough youngster wouldn't want it any other way!
Vermont's Lindsay Lynn!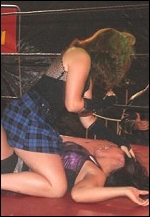 Lynn pounds away on fellow G.L.O.R.Y. Girl Barbie.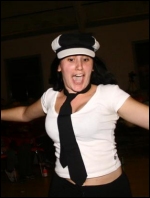 As you can see, Ms. Lynn can sometimes get a little crazy.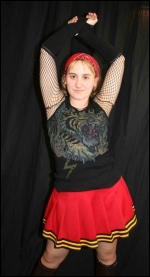 Lindsay Lynn is one kick-butt school girl!
Lindsay Lynn's Stats...
Height:

5' 2"

Weight:

130

Hair:

Black

Eyes:

Brown

Hometown:

Montgomery, Vermont (USA)
Lindsay Lynn's Profile...
How It Started:

I've been a fan since I was a little girl. And since my first training session back in April 2005, I've been hooked. First as a manager and now as a wrestler.

Gimmick:

Snooty little girl who everyone seems to hate.

Wrestling Style:

I like to say I've got a little of everything. I'm still in training, but I like to keep grounded. You can't pin someone in mid-air.

Gear:

Black shorts, tank tops, school girl skirt, arm warmers, fishnets, mini skirts...whatever I feel like wearing really.

Titles Held:

The Vermont State Women's Championship.

Biggest Win:

I'd have to say I've got a tie on that one. June 23rd, 2007 I had my rematch with Barbie and this time I won! It was a great feeling, even though it was a lucky shot that I beat her. Then I'd say the one I'll always remember is facing my hero Lexie Fyfe not once, but twice. And being crowned the second ever Vermont State Woman's Champion.

Worst Loss:

Any loss is a bad one...but I'm better for each one.

Favorite Type of Match:

Intergender tags; singles; tag matches.

Favorite Moves/Holds:

Tilt-a-whirl head scissors; running bull-dog.

Finisher:

Whatever it takes to finish the job. Even if that means I have to cheat a little in the process.

Biggest Allies:

Alexzandra; Maxx Burton; The Northern Studd; Nocturne.

Most-Hated Enemies:

Drake Evans; Mackie Schrody; Tim Dog St. Pierre; Barbie. It really all depends on who I'm managing.

Toughest Opponent(s):

Barbie always packs a punch, but I love my matches with her because they challenge me to better myself. And, of course, fellow G.L.O.R.Y. Girl Lexie Fyfe. Both of whom I have a ton of respect for.

Career Highlight:

My first singles match in SAW. The crowd went crazy after I was announced to the ring. It felt good that they accepted me as a wrestler as well as a manager.

Favorite Wrestlers:

I loved Trish Stratus and Lita. It's too bad they are gone! But I believe I can learn something from everyone, because I know that I don't know everything.

Wrestling Ambition:

I'd like to be able to work all over the USA. And if that goes well, hopefully I could make a trip overseas or to Mexico. Most people say WWE or TNA. However, in all honesty, that's not where I expect to end up. If the fates allow it, so be it.
Lindsay Lynn's Personal Notes...
I'm a huge fan of wrestling and I'm being trained old school. It totally disgusts me that the industry today is a dog-eat-dog world. People backstabbing each other to get ahead. We should really be worried about giving the best possible show that we can to the fans. It's not about personal gain, it's about showing the fans what you can do. Now, with that said, don't mistake me for a total softy! I know it takes plenty of heart and brains to make it, and I believe that with the help of my friends I can do anything I set out to. I'm not the "Miss to Mess with"! And I plan to show people that.
Latest Lindsay Lynn News...
My website has been canceled, due to geocities going down the drain. I'm trying to figure out what to do about that, but I've been super focused with my newest job: being a mother to my baby girl born September of 2009!
Essential Lindsay Lynn Links...