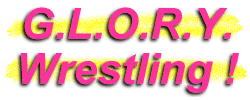 Miss Dixie
Wrestler
Miss Dixie started her career as a wrestling manager in 1999, but quickly realized that she wanted to jump into the ring and compete for herself. While she has had many looks over the years, her sense of chaos and taste for destruction have not changed at all...she'll do whatever it takes to have her arm raised in victory. Sure she can wrestle technically...but Miss Dixie just seems to have so much more fun fighting dirty and brawling once the bell rings!
Miss Dixie is as sexy as she is dangerous!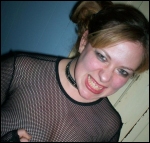 Miss Dixie: Attitude to spare!
Seems that Miss D is always ready for a fight.
Double clothesline!
Miss Dixie is about to take a slam from one of the Moonshiners.
Miss Dixie's Stats...
Height:

5' 3"

Weight:

160

Hair:

Depends on my mood.

Eyes:

Green

Hometown:

Philadelphia, Pennsylvania (USA)
Miss Dixie's Profile...
How It Started:

I grew up watching 80's wrestling with all my boy cousins. As a teenager, I attended as many live shows as I could. In June 1999 I met Captain Rick Adams, who was opening a wrestling class up to the public and I knew right there that I wanted to be a wrestler. (Little did I know that we'd end up married!) The first few years I mostly managed, getting myself involved where I could get my dirty hands, but it wasn't enough for me...I wanted to wrestle full time.

Gimmick:

I am a brazen, psychotic maniac who loves to cheat and will do anything it takes to win! I stick close to other wrestlers who will employ these same techniques to get ahead.

Wrestling Style:

I tend to stick to old school and technical wrestling, but I can brawl and fight dirty if need be!

Gear:

My trademark colors are red and black.

Titles Held:

Currently the CWF's Battle Royal Champion (beating 20 other men for the third month straight to earn the trophy).

Biggest Win:

I feel that my win in the March 2008 Battle Royal Trophy Defense was hard, as every guy in the locker was dead set on proving a girl wrong. But four months in a row, I was the last "man" standing and earned that victory!

Worst Loss:

Any loss is bad, but when Ronnie Raines and I teamed up to face the Moonshiners, they beat us so bad that they humiliated him by stripping him and dressing him in bra and panties while he was unconscious! Oh the horror and shame (and hair!).

Favorite Type of Match:

I love battle royals (I guess I feel the most comfortable in chaos!). I would love to get into a Lumberjack also, but singles and tags are great, too!

Favorite Moves/Holds:

I love to neck snap an opponent then deliver a drop kick to their unsuspecting face. I also love Bow and Arrow Sunset Flips. Anything on the mat is my fave though.

Finisher:

Corner splashes are my set up...but my Bulldog (Southern Discomfort) is my finisher!

Biggest Allies:

Well, I stick close to Ronnie Raines, Vyrus, Maxx Crimson, Mark Mest, The Bloody Skeleton, Preacher Jon Cannon and "The Nineteenth Key" Jasin Karloff. But I have countless others to watch my back if need be.

Most-Hated Enemies:

Debbie Sue and Tallulah Ray (The Moonshiners); The Cremator; Anyone who doesn't see cheating as a pasttime.

Toughest Opponent(s):

Hardest to face has been my own husband, Captain Rick Adams. We found ourselves on opposite sides while defending our guys and it ended up putting us in a match together. Ronnie Raines and I double-teamed the best we could, but in the end Captain pinned us both after double Michinoku's (Captain Crunches)!

Career Highlight:

Wrestling my brother, Kris Krude, in a battle royal was pretty exciting. Also, meeting Luna Vachon, my idol! The last nine years has all been great!

Favorite Wrestlers:

Luna Vachon; Sherry Martel; Shawn Michaels; Bret Hart; Rick Rude.

Wrestling Ambition:

I love to wrestle for the physical excercise, but I also do it for charity. CWF donates 100% of its profits to the Leukemia/Lymphoma Society, as my mom is a Leukemia survivor and Captain Rick is a remission patient of Non Hodgkins Lymphoma. I plan on wrestling until I can't cheat anymore!
Miss Dixie's Personal Notes...
As I said before, fundraising for the Leukemia/Lymphoma Society is near and dear to my heart. Rick and I have raised over $10,000 for them in the last five years.....I ran two half-marathons with Team In Training in 2007.....I am the Store Director for GameCrazy, so I love video games!.....We have two dogs, a cat, parakeet and a parrot.....Rick and I love to hang out with friends and party!.....I love, but I'm not a total expert, on Geography, Astronomy and Egyptology.....We also study the paranormal and frequently go ghost-hunting!.....I play classical piano and love wood-working.
Essential Miss Dixie Links...