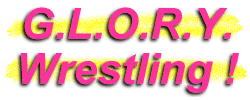 Miss April
Wrestler
Many fans think of Miss April as one of the most-exciting new wrestlers to hit the Northeast indy rings in quite some time. But April looks at things a little differently: she sees herself as a soldier in the revolution of women's wrestling. And anyone who has seen Miss April in action wearing her trademark camouflage gear knows that she's much more than a soldier in that fight...she's a general leading the charge! High-flying, technically sound and unafraid to step into the ring against any opponent, watch for big things from the talented Miss April as she battles her way up the ranks of the women's division.
The sexy and athletic Miss April!
No smiles when Miss A is preparing to step into the ring.
Flying high! April lauches off the top ropes!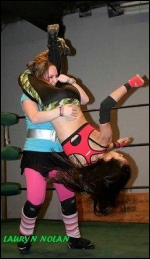 Roxie is about to hit the mat courtesy of a Miss April tilt-a-whirl head scissors.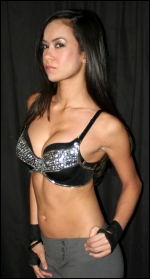 Miss April proves that a woman can be both athletic and sexy in the ring.
Miss April's Stats...
Height:

5' 2"

Weight:

107

Hair:

Brown

Eyes:

Brown

Hometown:

Union City, New Jersey (USA)
Miss April's Profile...
How It Started:

I would credit my brother for getting me into wrestling in the first place. I always looked up to him and wanted to do whatever he was doing. He was a huge wrestling fan so I eventually became one, too. I remember my first idol ever was Miss Elizabeth. She was so beautiful and classy, I wanted to grow up to be just like her. I really fell in love with the business, and knew that I wanted to be a part of it, around the year 2000 when women's wrestling started to make its mark. A short time after I graduated high school I began researching wrestling schools and found out that there was one only a mile from my house. I started working a full time job just to pay the school's tuition, became an official student in March 2007, and haven't looked back since.

Gimmick:

Miss April isn't one to break the rules. She is all for doing what's right, drinking milk, saving kittens from trees...you know, the usual. She is a soldier in the revolution of women's wrestling (hence the camouflage). Miss April doesn't care about the flashy costumes, t&a, barbie doll aspects of the business. She just cares about the wrestling and will never back down from a fight.

Wrestling Style:

At 107 pounds I'm not exactly a powerhouse, so my wrestling style is based around aerial and technical moves incorporated with Mexican style wrestling. However, if need be, there's no problem a stiff right arm won't solve.

Gear:

My brother was in the Army, and as an homage to him I only wear camouflage.

Titles Held:

WSU Women's Tag Team Champions (with Brooke Carter).

Favorite Type of Match:

Singles would have to be my favorite, however mixed tags are a lot of fun, too. I love any chance to show that I can hang with the guys. Plus they're so much more fun to beat up on!

Favorite Moves/Holds:

Spin kick; Yakuza kick; missile dropkick; head scissors; hurracanrana; a variety of Mexican arm drags.

Finisher:

"Shining Wizard"; "Sliced Bread #2".

Biggest Allies:

Jay Lethal; Thomas "The Gate" Rodriguez; Giovanni Marranca; Dan Murdoch; The BS Express.

Career Highlight:

Winning the 2009 King and Queen of the Ring Tournament. It was one of my favorite moments for two reasons: First, I loved getting in there with the guys and utilizing much more of my arsenal than usual; and, second, it was also really special for me to finally have a match with Jay (Lethal). I've spent more time in the ring with him than with anyone since he's the one who trained me for the past two years, but we had never had an actual match together until then.

Favorite Wrestlers:

Growing up, my favorites were Bret Hart and Randy Savage.

Wrestling Ambition:

I've never gone into anything in my life without fully expecting to push myself to my limit and become the absolute best I can. I hope to wrestle my way to the top of this industry, and to one day be considered one of the best female wrestlers out there. I've got a long way to go, but I'm confident and I have a lot of faith. I also hope to be a role model to young women. I was personally inspired by Lita. I was always a tomboy and was really insecure about it. When Lita came along, I finally had someone to look up to. She showed me you didn't have to be a girly girl to be beautiful, and it was ok to be a strong, athletic woman. I hope to one day be that same kind of role model and show girls that no matter your looks, style, race or size, you are capable of doing anything you put your mind to.
Miss April's Personal Notes...
If I wasn't wrestling, my career focus would be on writing.....I attended NYU's Tisch School of the Arts, majoring in Film and Television production.....I have a special love for animals, and one of my life's goals is to open a rescue shelter for homeless dogs.....Some of my other loves are just about every sci-fi book or movie ever, video games, anime and wrestling autobiographies.
Essential Miss April Links...