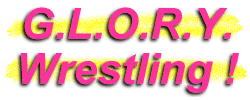 Michelle Madison
Wrestler
Michelle Madison is one of the UK's bright new ring prospects. What this teen newcomer lacks in experience, she more than makes up for with enthusiasm, desire and determination. And don't worry about the experience...she has plenty of time to get that! With the help of her older sister--champion British wrestler Louise Lockwood--Michelle has a great teacher and role model to show her the way. But there is still plenty of sibling rivalry to go around here. When these two step through the ropes, whether it's for training or an actual match, the fur flies...and Michelle gives her older sis quite a run for her money. Keep your eyes on Michelle Madison as she fights to make a name for herself in British wrestling circles!
Young Michelle Madison waits in her corner for the bell to ring in her first pro match against older sister Louise Lockwood.
Surprisingly, Michelle gains the early advantage with this boston crab.
Michelle utilizes her legs to keep her older sister trapped with this body scissors.
Louise has had enough and turns to cheating to wrest the advantage from her sister. Michelle screams in pain as Louise bites her leg to get free from this neck scissor!
Once in control, Louise shows no mercy for the younger girl as she tortures Michelle in an agonizing, suspended surfboard.
Michelle Madison's Stats...
Height:

5' 4

Weight:

125

Hair:

Brown

Eyes:

Blue

Hometown:

Manchester, England (UK)
Michelle Madison's Profile...
How It Started:

After watching my sister--Louise Lockwood--doing so well in wrestling, I wanted to get involved, too. (Even if only to kick her butt!) But seriously, I enjoy the sport of it and the competition. I also loved the idea of travelling and meeting different people.

Gimmick:

I don't really have a gimmick. But I've decided that all the outfits I have made will have some sort of tassels on them.

Wrestling Style:

I am learning a lot of high-flying moves to go along with my ground wrestling skills.

Gear:

One-piece with tassels.

Titles Held:

None yet...but keep watching this space!

Favorite Type of Match:

No-Holds-Barred...especially against my sister!

Favorite Moves/Holds:

I do like to use the Boston Crab whenever I can.

Finisher:

I am learning a new move at the moment: the "Victory Roll". Even though I can do it well, I keep going over it again and again. Practice makes perfect!

Biggest Allies:

No one in particular at the moment, although Kirsten Scott helps me a lot at the gym.

Most-Hated Enemies:

Louise Lockwood! She may be my older sister, but when we wrestle she becomes my worst enemy in the world and I want nothing more than to hear her scream.

Career Highlight:

I have only had two real bouts so far, but getting the better of Louise in our first match is my highlight. She had to bite me and cheat to win...but I'll get even. Just wait and see.

Wrestling Ambition:

My ambition is to win the British Title from "What's Her Name" in front of all her fans. Then I'd like to do some wrestling outside of Britain. I would especially like the chance to travel to the States to compete against and hopefully beat some of the popular girls there.
Michelle Madison's Personal Notes...
My days are spent at school, mostly, and I suppose that bores me a little. I would sooner be at the gym wrestling! But education comes first......After school I go to my friend Kirsty's house to do homework. But after that, we like to watch scary movies, listen to music and talk about things that happened at school (such as which teachers we don't like!).....My studying is going well, and I am looking forward to high marks when I leave, so keep your fingers crossed for me!.....I don't want to forget my pets. I have two cats, Lucy and Elle, and a rabbit named Thumper. Dianne (my ten year old sister) and me both look after them.....Love All.
Essential Michelle Madison Links...