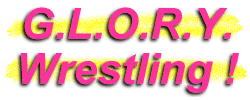 Mia Martinez
Wrestler
Mia Martinez has been dubbed La Chica Diamante..."The Diamond Girl". Seeing this lady in action definitely gives one the impression that she certainly is a diamond in the rough. In just a few short years, Mia has taken on some of the toughest wrestlers in the Women's Division and proven that she is a force to be reckoned with. Although she is well-versed in technical wrestling, this Mexican-born battler is not above getting rough and rowdy if the need arises. Perhaps that is why Ms. Martinez reminds people of the legendary women of this sport. Mia is also the holder of the prestigious PGWA Rookie Of The Year Award for 2001. Mia Martinez: A diamond in the world of women's wrestling!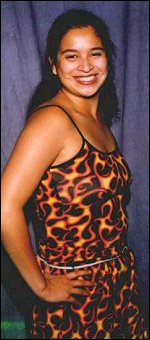 Mia Martinez, 2001 PGWA Rookie Of The Year.
'La Chica Diamante' looking hot in red!
No nonsense in the ring, Mia reminds many of the legendary ladies of the sport.
Mia prepares to shoot her opponent off the ring ropes.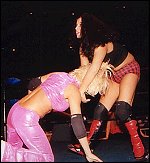 Martinez has the upper hand during a match against Holly Wood.
Mia Martinez's Stats...
Height:

5' 4"

Weight:

125

Hair:

Dark Brown

Eyes:

Dark Brown

Hometown:

Guadalajara, Mexico. Now residing in Chicago, Illinois (USA)
Mia Martinez's Profile...
How It Started:

Like most people who get started in this business, I have always been a fan of pro wrestling. I've been watching it since I was about four years old. My godfather would take me to wrestling shows whenever WWF was in town. I was drawn to the athleticism and charisma of wrestlers such as Jimmy Snuka, Roddy Piper, Hulk Hogan, Ricky Steamboat, and many others. I was especially intrigued by the women in the 80's such as Leilani Kai, The Jumping Bomb Angels, Fabulous Moolah and Wendy Richter. When I was 17, I started doing my research on different wrestling schools to train at. I found a manager on the East Coast, Hunter Q Robbins, who became a mentor of sorts. He taught me so much considering it was all through email. After getting a good understanding on how things worked, it was time to pick my school. I came across Adrian Lynch who, at the time, wrestled locally in Chicago. He had suggested that I check out the Steel Domain. I attended one of their shows to get a taste of some indy wrestling. Afterwards, I talked to Danny Dominion and Ace Steel about training...and few weeks later, I was in the ring taking my first bumps!

Gimmick:

Free-spirited Latina with an attitude. It's all about having fun!

Wrestling Style:

Mixing it up with some technical moves, aerial tactics, and other tricks up my sleeve.

Gear:

The promo pic pretty much says it all. I've never been a fan of wearing street or club clothes to the ring. My attire is something original that I took a liking to. I love red, silver and black. Those have become my trademark colors. And, of course, I gotta have my kickpads!

Titles Held:

None yet, but they'll be rolling in soon.

Biggest Win:

Any win against Dana Darling. And finally taking down Lexie Fyfe.

Worst Loss:

Does it really matter?

Favorite Type of Match:

One-on-one.

Favorite Moves/Holds:

Various suplexes, especially the Northern Lights Suplex; high kick to the face; neck breakers.

Finisher:

Top-Rope Diamond Cutter; Japanese Ocean Cyclone Suplex.

Biggest Allies:

XXXPlicit Content...when they behave themselves!

Most-Hated Enemies:

Whoever is standing across the ring from me.

Career Highlight:

Being named 2001 PGWA Rookie Of The Year.

Favorite Wrestlers:

Chris Benoit; Dean Malenko; Ricky Steamboat; Leilani Kai; Chigusa Nagayo; Ayako Hamada.

Wrestling Ambition:

Wrestling all over the world and hopefully working with the talent in Japan and Mexico.
Mia Martinez's Personal Notes...
Well, what can I say about myself? I'm Mia Martinez, "La Chica Diamante (The Diamond Girl)".....I was born in Guadalajara, Mexico and moved up to Chicago when I was very young (don't worry! I got my green card off the black market!).....My hobbies include dancing, listening to music, hitting the nightclub scene, reading, keeping busy, traveling all over and meeting new people.....Some people say I'm shy. Maybe, maybe not. Depends on what day you catch me.....If i had any musical talent I'd definitely be in a band. I just have a great passion for music. Music is what keeps my head on straight sometimes.....Favorite type of music, ummm, EVERYTHING! From rap to rock, hip-hop to metal, R&B to country. You name it, I probably like it.....I live for adventure! I've been bungee jumping, parasailing, scuba diving, rock climbing AND I had my tongue pierced.....Future plans? I'd like to jump out of a plane, buy a motorcycle, do the running of the bulls in Spain, and anything else that would endanger my life!
Essential Mia Martinez Links...