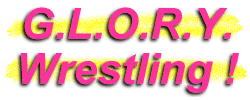 Megan Nicole Desire
a.k.a. The Toxic Diva
Wrestler
Breaking out in the Pacific Northwest region, Megan Nicole Desire has worked her way up from ring girl to manager and, now, wrestler. But don't call this lady a diva because she considers herself to be well past that stage in her career. And what could possibly be higher than a diva? Would you believe a Toxic Diva?!
Megan Nicole Desire:
The Toxic Diva
.
Megan always has something to say to the fans at ringside.
The Toxic Diva
is not shy when it comes to her ring attire.
Yes...that's Megan crunching a steel chair over the skull of an unfortunate opponent.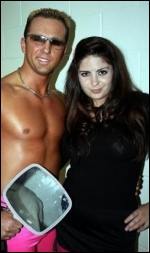 When Ms. Desire isn't wrestling, she manages many of the Northwest's most-popular male grapplers.
Megan hits her finisher,
"The Toxic Kiss"
.
Megan Nicole Desire's Stats...
Height:

5' 5"

Weight:

125

Hair:

Red and black

Eyes:

Hazel

Hometown:

Salem, Oregon (USA)
Megan Nicole Desire's Profile...
How It Started:

I was a big WWE fan and got curious to see if I could wrestle or not. I started training with Playboy Buddy Rose and Colonel De Beers in Portland, Oregon, and became hooked! To top it off, I learned instantly and was damn good at executing moves I just learned. I started as a ring girl and worked my way into managing and then wrestling. I started out in the old Portland territory which is wrestling barren compared to most other territories, but now I'm being booked all over the country.

Gimmick:

Who am I? Well... I'm the one you pay to see. The one who pops into your head just as you shook me out. I'm beautiful, I'm talented, I'm all the woman a man would ever need...

and more

. I'm not just some pretty little thing to gawk at and photograph. Oh no. I'm intelligent and business savvy. I manage champions, break hearts, take names and kick ass. All the girls hate me. Why? Because they are jealous. All the guys want me. Why? Because who could resist? I am Megan Nicole Desire,

The Toxic Diva

. Desire, because I'm what everyone wants or wishes to be. Toxic, because I'm devastating to all who take me on. I am the future of women's wrestling.

Wrestling Style:

I was trained old school and then picked up some lucha. Mainly I'm technical, which I learned with my third trainer, but you see a lot of the old school and some high flying when I wrestle. I love locks and holds. Making my opponent submit is my favorite way to win! But it's good to have variety so you can face anyone and get the win!

Gear:

Usually pink and black. I have pants, skirts, trunks and usually halter or tank tops. I love fuzzy boots!

Titles Held:

None yet. Maybe when I come back from injury.

Biggest Win:

Hmmm...let's go with my very first win. Pin fall on Lylah. Very gratifying!

Worst Loss:

My worst loss was against Irresistible Danielle with ICW in Washington. It was my second match with her and we were beating one another around more than wrestling. She got the 1-2-3 with a quick roll up. We should definitely have a third match.

Favorite Type of Match:

I love intergender tag matches when I have a good partner at my side. I get to wrestle a girl which I don't get to do very often, but I also get to wrestle very skilled men. If need be I have back up in my corner. And if we have great ring chemistry, explosive things can happen.

Favorite Moves/Holds:

I love to use sleeping camel clutches, Russian leg sweeps, snap suplexes and any sort of chaining and leg locks.

Finisher:

The

Toxic Kiss

, which is an extremely high jumping sit out face buster. The

Tox Plex

, which is a belly-to-belly suplex.

True Desire

, which is a tilt-a-whirl head scissors take down. And the

Toxirana

, which is a top turnbuckle hurricanrana. I also use a DDT from time to time from either the middle or top turnbuckle called

Toxic Shock

.

Biggest Allies:

Most recently I've walked alone. Travis Marcum teamed up with me last. We were great but I'm missing that explosive chemistry that make a good team a great team!

Most-Hated Enemies:

Irresistible Danielle at the top. Chris Ryseck, my former partner, who eliminated me from the battle royal at PWB after a long and successful partnership the previous year. Also, Sunni Daze and Lylah Lodge.

Toughest Opponent(s):

Lylah. She's a tough one! She's beaten me quite a few times! And Daffney, in my own wrestling experience. While managing I've kicked around or been kicked around by: Caden Matthews, Bolo, Havoc, Kris Klash and The Tonga Kid.

Career Highlight:

Having my first match after waiting so long. There weren't other girls in my area until now that were trained and match ready. Being booked in 19 promotions in many different states and soon Canada.

Favorite Wrestlers:

From the big time: John Cena, Victoria, Torrie Wilson, Bull Nankano, Gorgeous George, Christy Hemme, Triple H, Ella Waldek, Penny Banner, Mae Young, Moolah, Sherri Martel, Ida Mae Martinez, June Beyers, Mildred Burke, Judy Grable and Jazz. Indy: Nigel McGuinness, Austin Aeries, Davey Richards, Cheerleader Melissa, Serena, Cashanova, GQ Gallo, Penni Lane and Allison Danger.

Wrestling Ambition:

I want to make it to the WWE. TNA would be fine, as well as Shimmer. I want to travel all over and have as many matches with as many different men and women as possible. Holding the WWE Women's Title would be my ultimate goal.
Megan Nicole Desire's Personal Notes...
I am very athletic and have been my whole life, whether I've played volleyball, was captain of my cheerleading squad, trained for kickboxing, just going for hikes in local state parks or playing rugby with friends. I even went to university to study keniseology and became a personal fitness trainer upon graduating.....I love to read when I have the time and write as well.....But my favorite thing to do is dance--and I certainly do a lot of it!.....I just believe in three things: make and achieve goals, always better yourself and be happy.
Latest Megan Nicole Desire News...
This summer I return after a really terrible neck injury! Check my sites for updates!
Essential Megan Nicole Desire Links...
Megan Nicole Desire Video