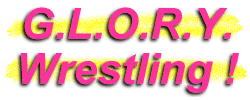 Missy Sampson
Wrestler
Missy Sampson had dreamed of being involved in professional wrestling from a young age...and this Pennsylvania-based grappler is getting the chance to live that dream. Not one to be particularly interested in following the rules, Missy usually finds herself on the receiving end of the crowd's jeers. But cheers from the crowd don't drive Missy...winning does!
Missy Sampson wrestles in her home state of Pennsylvania and across the Northeast.
Missy knew early in life that she wanted to be involved in professional wrestling.
Missy Sampson seems to enjoy torturing Ariel with this nasty looking camel clutch.
Missy throws a solid forearm!
Two of the toughest ladies on the indy scene: Missy Sampson and Mickie Knuckles.
Missy Sampson's Stats...
Height:

5' 7"

Weight:

155

Hair:

Reddish-Brown

Eyes:

Blue

Hometown:

Abington, Pennsylvania (USA)
Missy Sampson's Profile...
How It Started:

I used to watch wrestling when I was a kid. I started to go to indy shows when I was a teenager. After one indy show, my mom happened to mention to Angel Amoroso that I wanted to wrestle. There weren't a lot of girls in our area doing it at the time, so Angel took me under her wing. After doing some training with Angel I also spent a few months training with Heidi Lee Morgan. And when that was over, I did some training at the IWA Cruel School.

Gimmick:

I'm just me! There is no gimmick. What you see is what you get.

Wrestling Style:

Old-school brawler type.

Gear:

I've expanded my wardrobe a little bit, but it's still anything that I'm comfortable in. Something easy to move in or kick butt in!

Titles Held:

AWA-NJ Women's Championship; OSPW Women's Championship; DCW Women's Championship; WWWA Women's Championship; RAW Hardcore Champion; NEW Women's Champion. Currently ½ of the BWO Intergender Tag Team Champions.

Biggest Win:

In Rochester, New York against Mercedes Martinez. I think Mercedes is without a doubt the best women's wrestler in North America. So being able to squeak out a win was a huge victory for me!

Worst Loss:

Either of my losses to Mickie Knuckles! My body and my face felt like they had been in a train wreck! She is definitely the hardest hitting woman in pro-wrestling.

Favorite Type of Match:

Singles, mixed-tag or intergender.

Favorite Moves/Holds:

"The Sampson Slam".

Finisher:

"The Luscious Lowdown"

(Gutbuster).

Biggest Allies:

Amy Lee; Cindy Rogers; Malia Hosaka; Alicia; Alere Little Feather; Roxxy Cotton; Mat Bomboy; Corey Kastle; Trent Acid; Johnny Kashmere; Tod Gordon; Mike Kehner.

Most-Hated Enemies:

Roxxy Cotton; Mercedes Martinez; Angel Orsini!

Toughest Opponent(s):

Mickie Knuckles hands down! I have wrestled men who don't hit like Mickie! She's quick on her feet and has tons of power behind everything she hits you with!

Career Highlight:

Being the only American female to participate in the first-ever PWA Women's Elite 8 Tournament (in Canada).

Favorite Wrestlers:

Bret Hart; Dusty Rhoades; Mercedes Martinez; Sara Del Rey; Steve Corino; Amazing Kong.

Wrestling Ambition:

To last as long as I can in this business and to keep making the fans happy.
Missy Sampson's Personal Notes...
I work in the insurance industry during the week--usually being yelled at!--which helps me build up aggression that needs to be taken out in the ring.....I love to bowl.....I have to admit that I'm addicted to MySpace!
Latest Missy Sampson News...
I've been taking fewer booking due to some family issues going on. But you can still catch me on just about every PWU show and WSU show!
Essential Missy Sampson Links...