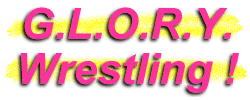 Louise Lockwood
Wrestler
Starting her professional wrestling career when she was just 14 years old, it didn't take Louise Lockwood long to become one of the top professional wrestlers in England. Ever since that early start, this confident young lady has been on a quest to prove that she can beat the best around the world. Louise has traveled throughout Europe, North America and even South Africa to take on the competition! And when she isn't traveling, she's busy running her own Manchester-based wrestling company: Ladies In Combat. Well-versed in other combat sports, this athletic young lady took to wrestling quickly and found her calling. Already in possession of numerous British titles, Louise Lockwood's future looks bright. Keep an eye on this young and talented grappler as she seeks to fulfill her goal of fighting for a championship in New York's Madison Square Garden!
Louise Lockwood is one of the top pro wrestlers in Great Britain.
Ms. Lockwood displays a little attitude!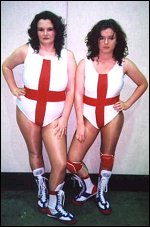 Louise and her tag team partner, Samantha Wilde.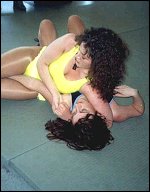 Louise ties-up the arm while securing a headlock during some on-the-mat grappling.
Louise Lockwood's Stats...
Height:

5' 3"

Weight:

140

Hair:

Brunette

Eyes:

Green, Blue & Brown

Hometown:

Manchester, England
Louise Lockwood's Profile...
How It Started:

I had tried many other combat sports, so I thought I would give wrestling a go. I loved it!

Gimmick:

"I may be little, but I'm hard!" ; )

Wrestling Style:

Traditional English Style...both Pro and Amateur.

Gear:

Nothing in particular. Just traditional wrestling tights that are bright and sparkly.

Titles Held:

British Ladies Champion; Intercontinental Champion; British Tag Team Champion.

Biggest Win:

When I became British Champion.

Worst Loss:

I've not really had any bad losses and I'm still undefeated in amateur wrestling.

Favorite Type of Match:

Any type of wrestling. I'm game for any challenge!

Favorite Moves/Holds:

Surfboard; Mexican Suspended Ceiling Hold; Sleeperhold.

Finisher:

The Sleeper.

Biggest Allies:

Kirsten Scott, my sister Michelle Madison and all the girls who wrestle here.

Most-Hated Enemies:

How many do you want?! Only joking. But probably my biggest enemy right is my sister Michelle Madison.

Toughest Opponent(s):

Kirsten Scott.

Career Highlight:

When I received the wrestling achievement award from the PGWA in 1999, as well as my title wins.

Favorite Wrestlers:

My favorite has got to be Sweet Destiny/Little Jeannie, because she is a lovely girl.

Wrestling Ambition:

I want to fight in Madison Square Garden. That's when I will know that I've made it!
Louise Lockwood's Personal Notes...
My name is Louise Lockwood and I am from Manchester, England.....I've been wrestling since I was 14 years old.....I love wrestling. It's my second favorite thing in the world. My first favorite is FOOD!.....I enjoy keeping fit, going out with my friends and most sports. But most of all, I enjoy cooking and eating FOOD!.....My favorite food is CHOCOLATE. I have to eat at least one bar a day to stay sane. : )
Latest Louise Lockwood News...
Have just had a little boy--his name is JJ (James Joseph)--so that is why I have been a little quiet. But I will be back in action for my video company by March 2008.
Essential Louise Lockwood Links...