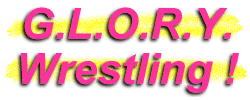 Luscious Lisa Fury
Wrestler
Lisa Fury is lighting-up Europe with an old-school style that has been exciting the fans and giving fits to her opponents. This sexy young lady is not afraid to step into the ring against anyone. In fact, she's battled big, bad Klondyke Kate (a 25+ year veteran of the business who is double Lisa's size) on more than one occasion and regularly competes all over Europe. Lisa Fury is a name that will soon be very familiar to fans all over the globe!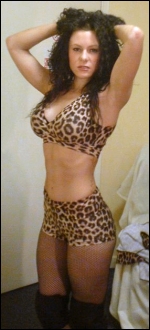 It's pretty obvious why she's known as "Luscious" Lisa Fury!
When she's not in the ring, Lisa spends lots of time at the gym.
Luscious Lisa is a beauty in and out of the ring.
Lisa tries to rip the head off of her opponent via a vicious camel clutch.
Luscious Lisa Fury's Stats...
Height:

5' 5"

Weight:

9 stone (126 pounds)

Hair:

Dark Brown

Eyes:

Green

Hometown:

Liverpool, England (UK)
Luscious Lisa Fury's Profile...
How It Started:

As a child I loved watching wrestling on the tv. My Granddad was a Pro Wrestler in the 50's and 60's and I decided from an early age that I wanted to be a professional wrestler. I contacted wrestling promoter Brian Dixon when I was 16 and he advised me to take up a martial art to learn the basics. After two years of Ju-Jitsu, I began wrestling training with legendary English wrestler Robby Brookside.

Gimmick:

I get in the ring and get the job done!

Wrestling Style:

I mix up a bit of everything...whatever it takes to get the win.

Gear:

Skirt/leggings and crop top.

Biggest Win:

Over Klondyke Kate or Luna Vachon.

Worst Loss:

Any loss is bad. Not that I lose that often...

Favorite Type of Match:

Mixed tags...so that I can mix it up with the men, too.

Favorite Moves/Holds:

Camel Clutch; Huricanrana; Sidewalk Slam; Japanese Strangle.

Finisher:

Facebuster or dive-across.

Most-Hated Enemies:

Sarah Jones; Roxi; Erin Angel.

Toughest Opponent(s):

Luna Vachon...she knows every trick in the book.

Career Highlight:

Becoming a Destiny Girl for NWE Italy.

Favorite Wrestlers:

British Bulldog Davey Boy Smith; Robby Brookside; James Mason; Les Kellett; HHH.

Wrestling Ambition:

All the way to the top! To be the best female wrestler I possibly can be and to put British wrestling back on the map worldwide.
Luscious Lisa Fury's Personal Notes...
I love to work out.....I am a qualified fitness instructor.....In my spare time I work as a supporting artist on tv shows.....I love listening to music.....I have a blue belt in Ju-Jitsu.
Latest Luscious Lisa Fury News...
I have just returned from Moscow, Russia after defeating the Russian Ladies Champion in a non-title match. I have been competing in Italy recently getting wins over Sarah Jones & Irene.
Essential Luscious Lisa Fury Links...