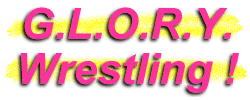 Lightning
a.k.a. Cheryl Rusa
Wrestler
Lightning first rose to prominence in the wrestling business in the late-80s when GLOW was the hit wrestling show on television channels across the country. Since then, this 5' 1" bundle of dynamite has not only continued to perform inside the ropes, she's also forged a career in show business as one of the top stuntwomen in Hollywood. Whether she's taking a high dive off of a tall building when the director shouts "ACTION!"...or flying off the top turnbuckle when the bell rings to start a match...Lightning guarantees excitement!
Lightning poses for the camera.
Lightning is a professional stunt woman, so you know she has to always be in tip-top shape!
Lightning dresses up like the superheroes she so admires.
Lightning poses with the belt after winning one of her championship titles.
Lightning's Stats...
Height:

5' 1"

Weight:

105

Hair:

Brown, Black & Blue

Eyes:

Aqua

Hometown:

North Hollywood, California (USA)
Lightning's Profile...
How It Started:

I was training to compete in a bodybuilding contest when my boyfriend was watching GLOW one Saturday morning. He called me over and said "Hey! Check this out!" I watched for a few minutes before telling him that I thought it was stupid! He laughed at me and said I was just jealous that they were on TV and I wasn't. We argued back and forth like that for awhile. The following week, when Saturday morning rolled around again, I turned the show back on and said to myself: "Alright, I will try to watch this stupid show!" As I watched, I began to think that I could wrestle as well or maybe even better than the girls I was watching. I said so out loud, and my boyfriend started laughing at me again! He said those girls would kick my butt...and there was another argument we got into! After the show was over they had an ad that said if you think you've got the stuff to be a GLOW girl, send in a photo and resume. My boyfriend pretty much dared me to send something in. So, I faked up a resume and sent a photo...they called!

Gimmick:

I come direct from the comic book pages...a superhero! (X-Men, Marvel, DC Comics, etc.)

Wrestling Style:

High-flyer.

Gear:

Superman's colors along with a pair of red boots!

Titles Held:

AIWA Women's Champion; PCCW Women's Champion.

Biggest Win:

AIWA Women's Championship match.

Worst Loss:

LPWA tag match. When I wrestled as Little Mo and teamed with Big Mo, we lost a tough match to Bad, Black & Beautiful.

Favorite Type of Match:

Tag-team.

Favorite Moves/Holds:

Anything that has me flying high!

Biggest Allies:

In my personal life: my family & my stunt friends. In the ring: Thunder.

Career Highlight:

Traveling to Japan, Malaysia, Hong Kong, Samoa, Hawaii, Africa, Panama, Russia, U.K. and more.

Favorite Wrestlers:

Madusa.

Wrestling Ambition:

To get more time on TV and to just have a good time doing it.
Lightning's Personal Notes...
I am a professional stuntwoman, so many of my hobbies are related to that.....I love swinging trapeze, surfing, trick riding on horses, high falls and the russian swing.....But I enjoy plenty of normal stuff, too! Going to the movies and hanging with my friends are both a lot of fun......I also enjoy music and karaoke. I play the drums, too.....I like to get outdoors for skating and biking. And I try to hop on my Harley and hit the open road whenever I can.....There are also times when I like to just stay home, relax and do a little writing.....I'm a sucker for lost and wounded animals. So I always have plenty of cats around to take care of!
Essential Lightning Links...