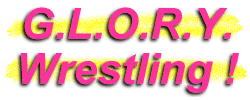 Lexx
a.k.a. The Biggest Midget In The Game!
Wrestler
Proving that the biggest bitch comes in the smallest package, Lexx is not just any female...she is THE female! This twisted sister has been honing her skills in rings across the North East of England, inflicting pain on all who cross her path--man or woman--sending out the message that she may be out-sized by height, but not by fight!
The electrifying Lexx!
Lexx looks like she's ready for a fight.
Catch more of Lexx at Lexx-Online.co.uk!
Lexx with a cute smile for the camera.
A very sexy Lexx-y!
Lexx's Stats...
Height:

5' 0"

Hair:

Brown

Eyes:

Green

Hometown:

North East, United Kingdom
Lexx's Profile...
How It Started:

It was my brother who introduced me to wrestling with the Fifth Annual Survivor Series. One look at Roddy Piper and I was hooked! By the age of nine I'd made my mind up: I wanted to be just like him. Serious thoughts about training came much later as I searched on the Internet for schools and academies in my local area. There weren't any. The closest I could find was in Grimbsy and there was no way I could afford the travel costs. By chance in late 2002, a friend of mine mentioned to me in passing about a school that had recently opened. As scared as I was I took a deep breath and went along to check it out. I never once thought it wouldn't be for me. Wrestling is what I'd been dreaming about for years and I wasn't letting anything stop me now that I'd found my starter blocks. In my mind this was going to work.

Gimmick:

All round twisted bitch!

Wrestling Style:

All rounder. I can take anything you throw at me!

Gear:

A little orange & black number.

Titles Held:

IWF Junior Academy Champion (allegedly!).

Biggest Win:

EuCW in Washington on June 25th, 2007 against Mad Man Manson. He entered a women's match wearing a dress and got his crazy ass kicked to the ground!

Worst Loss:

I lost a dance-off against Tracy Smothers. I was not amused!

Favorite Type of Match:

Mixed/intergender matches (I like to hit boys...hard!), as well as intergender tag matches.

Favorite Moves/Holds:

"MMK" (Murderdoll Mafia Kick); "Never Mind the Bollocks" (low blow); Scissor Sweep; Eye Rake.

Finisher:

Sweet Misery DDT; Lowrider.

Biggest Allies:

I trust no one!

Most-Hated Enemies:

Anyone who gets in my way.

Toughest Opponent(s):

Pryme Tyme AmyLee.

Career Highlight:

Working for Tod Gordon and PWU.

Favorite Wrestlers:

Trent Acid; Johnny Kashmere; Raven; "Rowdy" Roddy Piper; Scotty 2 Hotty; Sabu; Curry Man; Teddy Fine.

Wrestling Ambition:

To stay independent and to go back to the States!
Lexx's Personal Notes...
Nobody can accuse me of being a slacker! I work hard on my own website (and many others!) to keep it updated with all the latest info. Add to that the fact I make all my own graphics, too!.....Aside from that, I like to listen to the odd bit of music.....I love PIRATES and ORANGE THINGS!!!... I'm ashamed to admit I drink tea by the gallon and try to get in the wrong side of the car when I'm state-side...oops!
Latest Lexx News...
I'm currently undergoing treatment for Freiberg's Disease (a rare bone disorder of the foot), but will continue to work around this. As Roddy Piper says, "If you can walk, you can wrestle!"
Lexx Video