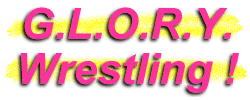 Lexi Lane
Wrestler
As soon as this stunning young lady stepped out from the backstage curtain for her very first match, the nickname for Lexi Lane was born. And it's easy to see why she immediately became known as "Sexy Lexi"! The fans love to cheer on the exciting blonde battler and former high school cheerleader whenever she enters the ring. Still a relative rookie in the sport, this blonde stunner has already been making a name for herself in wrestling arenas all across the Midwest. The future looks wide open for the athletic and attractive "Sexy" Lexi Lane!
Beautiful Lexi Lane!
Is there any question why the fans call her "Sexy Lexi"?!
Lexi's muscular body strains as she locks-up with her opponent.
Lexi enters the ring to the cheers of the fans.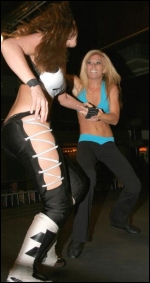 Ms. Lane with a whip to the ropes for her opponent.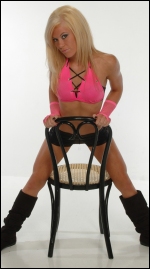 Have pink and black ever looked better together?
Lexi Lane's Stats...
Height:

5' 3"

Weight:

115

Hair:

Blonde

Eyes:

Brown

Hometown:

Columbus, Ohio (USA)
Lexi Lane's Profile...
How It Started:

As with many women in this business, I've been a HUGE fan since I was a little girl. When most girls were getting their first pair of high heels for their birthday, I got action figures and replica belts! Shortly after graduation, I saw a poster for a local indy show in my area and contacted the promoter immediately. We met that weekend at the show and I've been hooked like crazy ever since.

Gimmick:

My gimmick when I'm face (98% of the time) is a fun, spunky, sexy, girl-next-door with an edge. But when I step into the ring I'm all business and ready to do whatever to get the "W". When I'm heel (rarely), I play the "too good for you", self-absorbed, obnoxious bitch.

Wrestling Style:

Mainly technical, with a knack for throwing a mean variation of kicks. Watch out for my occasional high flying and submission spots to get the crowd going!

Gear:

My gear is mainly a pink/black or teal/black color scheme. Usually I show some skin, but keep it classy. Small tops with shorts or smaller tops with black pants. I either wear black boxing boots or wrestling shoes with teal kickpads.

Titles Held:

OCW Women's Championship.

Biggest Win:

My first singles match vs. Jayme Braxton in front of my old hometown--at my old high school--with special guest referee Ivory. I learned a lot that night and it began my career in this business, which is still a dream come true!

Worst Loss:

My first battle with Hailey Hatred when she powerbombed me halfway to Hell and cheated to get the win!

Favorite Type of Match:

Mixed tag matches are always a fun change, but singles matches really let you shine the entire time!

Favorite Moves/Holds:

Mexican headscissors; reverse STO; various hurricanranas; wheelbarrow arm drag; mafia kick; calf kick; top rope crossbody.

Finisher:

DisLexia (a reverse STO)...but sometimes a quick roll-up is all it takes to get a win.

Biggest Allies:

Anyone who has helped me learn the ropes in this business, the easy OR the hard way! I'd say most of the people from OCW, my home promotion...particularly Jeff Cannon, my trainer. Also, Lorelei Lee and Nevaeh.

Most-Hated Enemies:

Sassy Stephie; Jessicka Havok; Portia Perez; Hailey Hatred.

Toughest Opponent(s):

Shantelle Taylor, ODB, Tracy Brooks and Hailey Hatred were all fierce competitors!

Career Highlight:

Getting to return to my old high school, collecting the "W" and making the crowd go nuts! First matches usually make a lasting impression I'm told...and that one may never be topped! Then again, I'm still learning and still climbing the ladder. More recently: my debut in Shimmer, which has been a goal of mine for awhile.

Favorite Wrestlers:

Trish Stratus; Rey Mysterio; Shawn Michaels; Chris Sabin; Alex Shelley. INDIES: Matt Mason; Jeff Cannon; Josh Prohibition. Daizee Haze, Shantelle Taylor and Angel Williams are all amazing workers as well.

Wrestling Ambition:

As with most indy wrestlers, being signed to WWE or TNA is always a goal and always a dream. But should that not happen, I'll be happy knowing that I'm living a small part of my dream already!
Lexi Lane's Personal Notes...
I'm currently a part-time college student studying Radiology.....In my time away from wrestling, school and work, I'm usually in the gym.....Competing in a professional figure competition is another goal on my extensive list of things to do.....Aside from all of that, I spend down-time with my family and friends who are the foundation of who I am and where I've come in my life. I have the best parents in the world, two older brothers who put the boots to me when I was young to prepare me for today, and a house full of animals including two golden retrievers, a cocker spaniel and two cats!.....In high school, I was a varsity cheerleader, homecoming queen, drama club geek and ran track...which could be why it strikes everyone as crazy that I do something as wild as professional wrestling now! : )
Essential Lexi Lane Links...