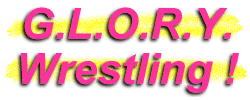 Leilani Kai
Wrestler
She's a legend in the world of professional wrestling...and she's still going strong! Leilani Kai has been wrestling since 1975 and has amassed a record in the sport that few participants...men or women...can match. She's held the WWF Women's World Championship, numerous Japanese belts, the WWF Women's Tag-Team Title (with friend and partner Judy Martin) and numerous regional championships. Leilani also made history by competing for the WWF Women's Title in the VERY FIRST Wrestlemania back in 1985! If you want to know what wrestling is all about, then get to know Leilani Kai!
The legendary Leilani Kai!
You can see why Leilani is called the 'Hawaiian Princess'.
Leilani and Judy Martin tag-teamed as the Glamour Girls.
Leilani Kai's Stats...
Height:

5' 7

Hometown:

Tampa, Florida (USA)
Leilani Kai's Profile...
Gimmick:

I don't have a gimmick and I don't need one. When I get into the ring, it's for one reason...to WIN...not to show-off some gimmick for the crowd. All I can tell you is that if I had to wrestle me, I would FEAR ME!

Wrestling Style:

I'm a technical wrestler and trained in Japan shoot wrestling. I'm also excellent with Num Chucks having two years training with them.

Gear:

This is wrestling...not some fashion show! I just put on my tights, lace-up my boots and get ready to hurt somebody.

Titles Held:

WWF Women's World Title, Japan's AJW All-Pacific Title, NWA Mid-Atlantic Women's Title and North Carolina's NDW Women's title. (Webmaster note: Ms. Kai has held many, many more titles than can be listed here!)

Biggest Win:

The biggest win of my career was defeating Chico Awagawa for the Japanese Pacific Belt. That's important to me because they really appreciate women's wrestling in Japan.

Worst Loss:

The biggest loss to me is the disappearance of the old-school style of wrestling. Everything seems to be geared toward more of a "T&A" show. That would be what I consider the biggest loss...losing a match doesn't bother me nearly as much.

Favorite Type of Match:

Anything that allows me the chance to compete. I like new challenges and competition...especially "breaking in" new girls!

Finisher:

Whatever gets me the 1-2-3 darlin'!

Favorite Wrestlers:

There are so many wonderful people I've gotten to know. My partner, Judy Martin, of course. And then all the girls that helped me get my start: Fabulous Moolah, Susan Green, Joyce Grable, Vicky Williams, Donna Christiantello...there are so many more, I could go on forever.

Wrestling Ambition:

I've seen and experienced so much in this business and I'm thankful that I've reached so many goals already. But I still have the goal of preserving the technical, old-school style of wrestling. That's why I like to work with a lot of the newer girls who are just starting out. I want to try and teach them about the business and what wrestling should be.
Leilani Kai's Personal Notes...
Leilani got the nickname of the "Hawaiian Princess" from fellow wrestlers early in her career. It didn't take long for fans to pick-up on the name...Leilani started her career very young: right out of high school, in fact!...Trained at the school of the legendary Fabulous Moolah...Even after 25 years, Ms. Kai is still very active in the business, crisscrossing the country to take on all challengers...Favorite thing to do: Training and advising rookies who are coming into the sport. In Ms. Kai's words: "I try to help new girls who are coming into the business. I had a hard start, so I try to help them out whenever I can. I know what it's like out there. Success in this business doesn't come to you on a silver platter. If I can help them to avoid making some mistakes, I'm happy to give them some guidance."...Away from the ring, Leilani enjoys riding Harleys, deep sea fishing and, believe it or not, wild boar hunting!...And one last thing that Leilani adds: "I like mean-looking dogs!

Webmaster's Note: Since Ms. Kai is not one to "brag on herself"...I will. On October 14th, 2000, Leilani Kai was inducted into the NWA Wrestling Hall Of Fame in Nashville, TN. A great accomplishment and an honor that is bestowed upon only the greatest in the business. Congratulations!
Essential Leilani Kai Links...